London Mozart Players return to the refurbished Fairfield Halls as Resident Orchestra
Gala concert: Wednesday 18th September 2019, 7.30pm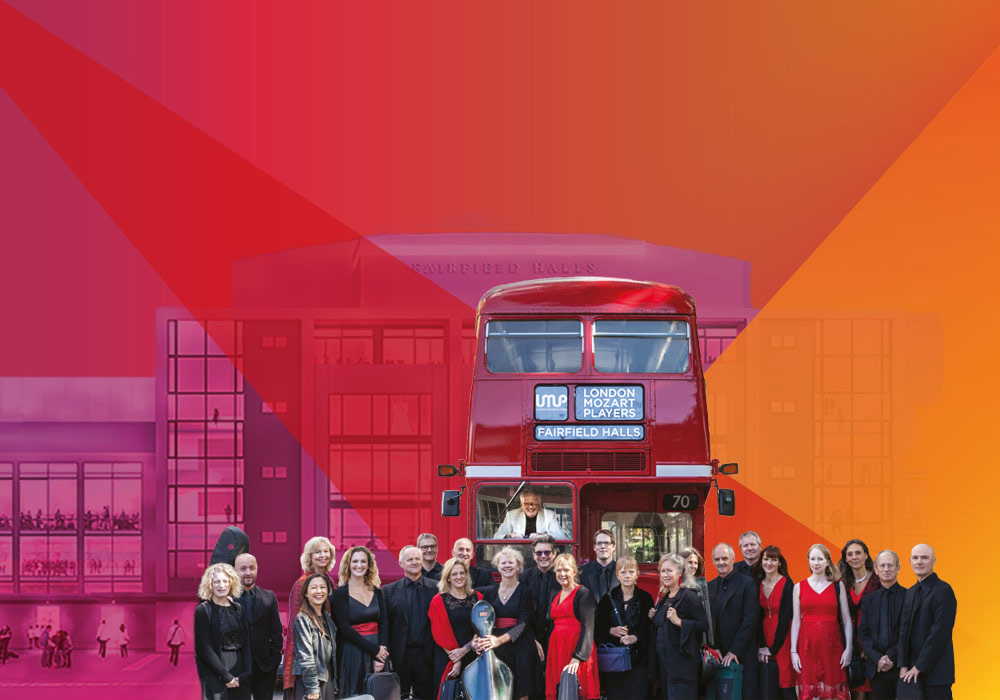 London Mozart Players return to Fairfield Halls after its three-year closure for refurbishment

2019 marks LMP's 30th year as Croydon's Resident Orchestra and also the LMP's 70th year

Gala Concert in the Phoenix Hall reuniting the orchestra and former conductors Jane Glover, Howard Shelley, Hilary Davan Wetton and Gerard Korsten

Concert to feature world premiere by Alex Woolf, and Mozart arias with Louise Alder

Concert to be broadcast on BBC Radio 3
 The London Mozart Players, the UK's longest established chamber orchestra, is thrilled to be returning home to Croydon's Fairfield Halls as Resident Orchestra when it reopens in September 2019. This state-of-the-art venue in the heart of the Croydon community closed for refurbishment in 2016, and the orchestra's long-anticipated homecoming will be celebrated with a gala classical concert in the Phoenix Concert Hall on Wednesday 18th September at 7.30pm. The concert, to be broadcast by BBC Radio 3, will highlight the Hall's excellent acoustic. LMP is looking forward to bringing the world's best music to this venue for the 2019/20 season and beyond.
The orchestra's return to Fairfield marks a significant moment in a 70th birthday year that's been packed with musical successes. Concerts with Michael Collins, Jane Glover and Howard Shelley have played to excellent audiences at St John's Smith Square and the Queen Elizabeth Hall, while the 70th birthday itself was marked with a Classic FM Facebook live broadcast to a worldwide audience of Mozart's Jupiter Symphony from the Shangri-la Hotel At The Shard, high up above London on the 34th floor of the iconic building. The new season at Fairfield will be just as exciting, with concerts featuring music from across the classical spectrum and top-flight guest soloists including Sheku Kanneh-Mason, Craig Ogden and Jess Gillam.
The programme for September's Fairfield gala concert will showcase the talent within this much-loved chamber orchestra. Prokofiev's Classical Symphony, Beethoven's Symphony No. 7 and an exquisite selection of Mozart arias with soprano Louise Alder will be performed alongside 'Fairfield Fanfare' – an exciting new commission from Alex Woolf, BBC Young Composer 2012, who was inspired to take up composition aged 11 after encountering an LMP outreach project in 2006. LMP has a long tradition of supporting young talent and the orchestra is delighted to be continuing this at Fairfield. Although the orchestra is usually self-directed, for this concert the players will welcome some special guest conductors who have been closely associated with the orchestra during its illustrious history: Hilary Davan Wetton (Associate Conductor), Jane Glover (former Artistic Director 1984–1991), Gerard Korsten (former Artistic Director 2010–2015) and Howard Shelley (Conductor Laureate).
The three years away from the Halls have been full of pioneering cross-cultural projects that kept classical music alive in the borough of Croydon and expanded the orchestra's usual fanbase. In 2016, the LMP moved to the church of St John the Evangelist in Upper Norwood, undertaking an exciting series of initiatives to bring classical music to this community. These concerts ensured that neither price nor distance prevented anyone in the community from attending concerts featuring artists of the highest calibre such as Nicola Benedetti and Michael Collins. From here, LMP launched the award-winning #LMPontheMove series, which, across three years, took classical music into unusual venues in Croydon including shopping malls, carparks and bars. Music events tailored for the under 5s was a particular feature, with sell-out performances of popular works held in Croydon's libraries. In addition, performances in the Croydon and London Melas with young Asian artist Arjun, Croydon Pride with Afrobeats artist/ producer/ songwriter Silvastone, and a set at Boxpark with DJ Shift K3Y, ensured that LMP's classical take on contemporary sounds reached a new, culturally diverse audience. The final event in #LMPontheMove 2019 will be a live-to-picture performance of the animated classic The Snowman in December at Fairfield Halls.
LMP will continue its association with St John's Upper Norwood, undertaking a full series of concerts at the Victorian church in addition to its Fairfield series and concerts in London's premier venues such as QEH, St John's Smith Square and St Martin in the Fields. It will also extend its education and outreach initiative, building on its reputation for groundbreaking and inventive musical collaborations across the borough of Croydon, inspiring youngsters through workshops and concerts with its side-by-side projects.
Julia Desbruslais, Executive Director of LMP said: 'Fairfield Halls is a magnificent venue and we are delighted to be returning home. The three years away during its refurbishment has been an extraordinary time of development for the orchestra, and has really connected us to this community. We look forward to welcoming everyone back to the magnificent Phoenix Concert Hall for a truly exciting programme of concerts!'