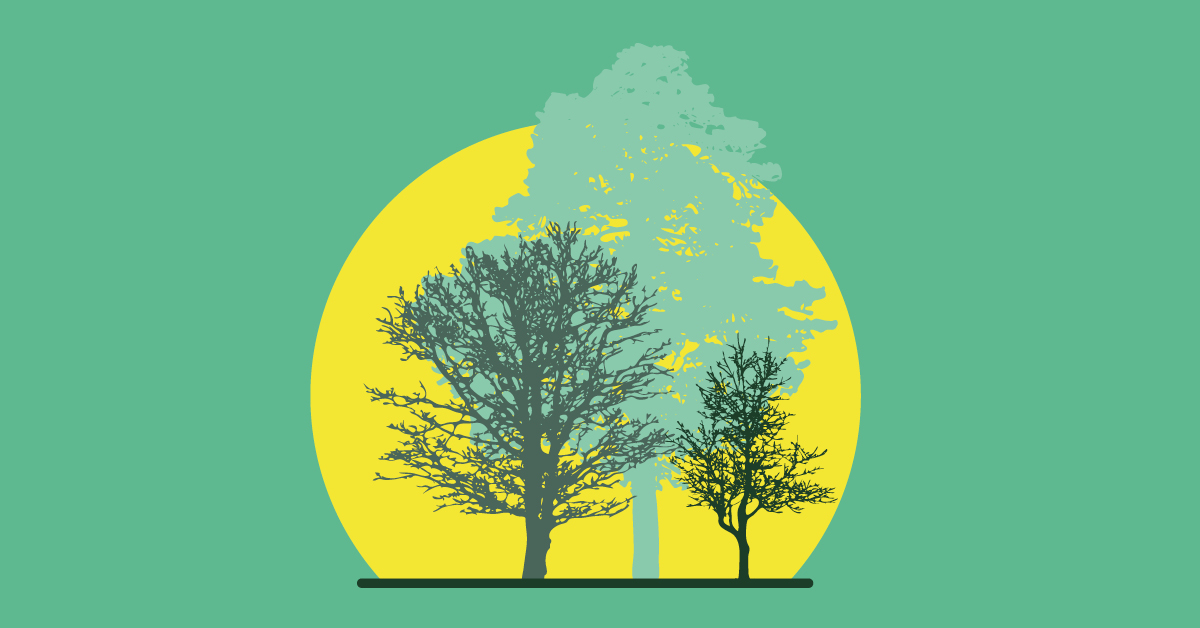 A musical trip around the sun in just one evening. Doesn't time fly…
I           Allegro
II          Andante
III         Presto
Most of Mozart's miscellaneous orchestral works are in the nature of a form halfway between the suite and the sonata, be they called serenades, divertimenti or cassations. There are also a large number of separate movements, especially marches and minuets, which may or may not have been intended for incorporation in larger works. At Salzburg, where most of this kind of music was composed, Mozart clearly set down what came into his head whenever he found himself at leisure and had a few sheets of music paper to his hand.
A good many of these works are, accordingly, not of any great importance; but then it must be remembered that industrious composers of the eighteenth century, like Haydn and Mozart, would have been highly astonished if anybody had suggested to them that the entertainment music they were expected to write ought to be devised with an eye on the possibility of their inclusion in a complete edition more than two centuries later. It cannot be emphasised enough that they regarded themselves as craftsmen, not classics.
The title 'divertimento' was extremely common in eighteenth-century Austria. At first sight, the ideal it implies – of music as an elegant diversion to while away a potentially tedious hour – seems rather a climb-down from earlier aesthetic theories of music as a language of the emotions or as the most perceptible echo on earth of heavenly harmony. However, Mozart, along with Joseph Haydn, demonstrated time and again that music as entertainment can go along with the most original, enlightening, even profound ideas. Whereas Haydn used the title divertimento fairly indiscriminately, Mozart tended to use it either for music for wind ensemble or for chamber works in the extended six-movement form.
The Divertimento in D, K136, along with Divertimenti K137 and K138, was written in Salzburg early in 1772. As a set, they precede a series of string quartets written in Italy later the same year, and may themselves be played as quartets. K136 belongs firmly in the Austrian divertimento tradition – music that entertains through a lively interplay of ideas, melodic distinctiveness and an element of instrumental virtuosity. It is a model of classical clarity, its first movement, in the usual tripartite sonata form, followed by a moving andante. The final movement finds a place for counterpoint in its central development, adding a further dimension to music of concertante brilliance.
© Elizabeth Boulton 2007
 Grieg 'Våren' from Two Elegiac Melodies
I           Den Sårede (The Wounded Heart)
II          Våren (The Last Spring)
Grieg was born in Bergen, Norway, in 1843. His ancestors were Scottish; the original family name was spelt 'Greig'. After the Battle of Culloden in 1746, his great-grandfather travelled widely, settling in Norway around 1770. Grieg was raised in a musical home and his mother became his first piano teacher. In the summer of 1858, Grieg met the eminent Norwegian violinist Ole Bull, who noticed the boy's talent and persuaded his parents to send him to further develop his talents at the Leipzig Conservatoire. In 1862 he finished his studies in Leipzig and held his first concert in his home town of Bergen, where his programme included Beethoven's Pathétique sonata. (Grieg's own recording of his Piano Sonata, made late in his life, shows he was an excellent pianist).
He met Liszt and Tchaikovsky later in life and he is renowned as a nationalist composer, drawing inspiration from Norwegian folk music. Early works include a symphony (that he later suppressed) and a piano sonata. He also wrote three sonatas for violin and piano and a cello sonata, but is more famous for his incidental music to Peer Gynt and the Holberg Suite. His many short pieces for piano — often built on Norwegian folk tunes and dances — led some to call him the 'Chopin of the north'. Although Grieg's smaller scale pieces are the most successful musically, the Piano Concerto is his most popular and still frequently performed (possibly thanks to Morecambe and Wise?)
The Elegiac Melodies are arrangements for string orchestra of two songs from the set of twelve published as Op. 33 that Grieg wrote (presumably for his singer-wife) to texts by the pastoral poet A O Vinje. This song-cycle was begun as early as 1873, a few years after the première of his piano concerto, but was not finished until 1880, when Grieg had just become conductor of the long-famed Harmonic Society in his native Bergen. He and his audiences no doubt showed special liking for the two songs (Våren, No. 2 and Den Sårede, No. 3 of the set), for he published them yet again soon afterwards in a version for piano.
© Jo Towler
Grace Williams 'Calm Sea in Summer' from Sea Sketches
Born in Wales in 1906, Grace Williams was brought up in a musical family. At home she engaged with music not through exams and exercises, but simply by reading scores. Later, at school, she was encouraged in composition by her music teacher. After graduating from University College, Cardiff, she moved to London to attend the Royal College of Music studying under Ralph Vaughan Williams. Her cohort was notable for its number of gifted female composers, including Elisabeth Lutyens, Elizabeth Maconchy and Imogen Holst.
The first two decades of Williams's working life were spent balancing teaching and composing. She lived in London, travelling to Vienna as part of a scholarship. After the Second World War her health was declining and she left London for her parents' house in south Wales. Here, she could focus on composing. She earned commissions from the BBC, major orchestras and festivals, carving out an independent artistic life from her home in Barry.
She was offered an OBE in 1967 but turned it down. In 1977 Grace Williams died, leaving behind a profound influence on the musical landscape. Nowadays she is considered one of the finest Welsh composers.
Grace Williams' Sea Sketches were written at the back end of the Second World War in 1944 whilst she was living in London, a far cry from her home by the sea in the town of Barry, Glamorgan in South Wales where she had grown up. She dedicated her Sea Sketches to her parents, owing a great deal to them 'for their good sense in setting up home on the coast of Glamorgan'. The particular body of seawater that Williams portrays in this work is the Bristol Channel, and she constructs five movements to illustrate different aspects of the sea's character.
Unlike a lot of other works inspired by the sea, which typically end with a storm or similar phenomenon that displays the majesty and power of the sea – such examples include Debussy's La Mer or Britten's Four Sea Interludes from 'Peter Grimes' – Williams ends her sequence of five sketches, all of which are scored for strings alone, with the tranquil and wistful 'Calm Sea in Summer'. The music conjures an image of a beautiful summer's day, with boats gently swaying in the breeze, and the shimmering effect she creates at the end of the sketch could evoke the reflection of the sun in the water, or even the water gently lapping against the shore.
© Alex Mackinder, Jessica Peng
First Performance (Orchestral Version):
Date: 14 September 1901
Venue: Queen's Hall, London
Conductor: Sir Henry Wood
During 1897, Elgar first became acquainted with A J Jaeger, the Novello's employee who became Nimrod of the Enigma Variations. From the start, they were frank in their exchange of views. In October 1897, Elgar, who by this time already had a number of comparative successes under his belt, wrote to Jaeger bemoaning the lack of financial reward he had received for his works. To those who knew Elgar, such melancholic moods were not uncommon and perhaps not to be taken too seriously, although they did reflect the parlous financial existence of a composer at that time.
Within ten days of his letter to Jaeger, Elgar sent Novello's a short piece for violin and piano which he called Evensong, although he suggested to Novello's that they might prefer the name Vespers. In the event, believing that French titles sold better, they published it as Chanson de Nuit. Elgar no doubt regarded it as little more than a pot boiler, a quick way of earning much needed funds, although the work contains a depth of sincerity and emotion not commonly found in pot boilers then or since.
In March 1899, shortly after completing the orchestration of the Enigma Variations, Elgar sent Novello's another short piece for violin and piano. He claimed to have recently rediscovered and completed it, having originally intended it as a companion piece to Evensong. He therefore suggested to Novello's that they publish it as Chanson de Matin, which they did.
In January 1901, Elgar sent Novello's orchestral arrangements of the two works. This helped accelerate their rising popularity and it is in this form that they are usually heard today. Chanson de Matin in particular retains a wide public affection out of all proportion to the effort it must have taken Elgar to produce it. But, while there is no denying the direct appeal of its pure melody, it is Chanson de Nuit that is in many ways the better, more carefully constructed composition. It has, however, largely been eclipsed by the popularity of the former.
© The Elgar Society
Leroy Anderson and his wife Eleanor first came to Woodbury, Connecticut in 1946 to spend the summer in a cottage on Painter Hill Road. The cottage was on land owned by Eleanor's mother and her two sisters who planned to retire there. During a July heat wave and drought, Leroy was digging trenches to try to find some old pipes coming from a spring.
He began composing several tunes, including Sleigh Ride (Sleðaferð), in which he envisioned as a musical depiction of the winter season long ago.
After the summer of 1946 was over, Leroy and Eleanor moved to New York City where they lived at 19 Parade Place in Brooklyn in an apartment that had been rented by Eleanor's uncle who recently died. Leroy Anderson completed Sleigh Ride in Brooklyn on 10 February 1948. Sleigh Ride received its premiere on 4 May 1948 with Arthur Fiedler conducting the Boston Pops Orchestra at Symphony Hall in Boston. According to BPO Conductor Keith Lockhart, Sleigh Ride is the Pops' signature work.
Meanwhile, Eleanor's mother and aunts decided to have an old barn on their Painter Hill Road property converted into a house. When the house was completed, Leroy and Eleanor moved to Painter Hill Road in 1949, making Woodbury their permanent home.
According to the composer's widow Eleanor Anderson, "Leroy didn't set out to write a Christmas piece when he wrote Sleigh Ride. His intentions were to convey the entire winter season through the imagery of a sleigh ride, much in the way that Mozart did with his piece of the same name."
Composer's intentions aside, this winter composition quickly became associated with the holiday. Eleanor Anderson remembers hearing Sleigh Ride in New York City department stores right after the first recording was released in 1949.
© The Leroy Anderson Foundation
Concerto No. 1 in E La primavera (Spring)
I           Allegro
II          Largo e pianissimo sempre
III         Allegro: Danza pastorale
Concerto No. 2 in G minor L'estate (Summer)
I           Allegro non molto
II          Adagio e piano – Presto e forte
III         Presto
Concerto No. 3 in F L'autunno (Autumn)
I           Allegro
II          Adagio molto
III         Allegro
Concerto No. 4 in F minor L'inverno (Winter)
I           Allegro non molto
II          Largo
III         Allegro
Antonio Vivaldi was the teacher of orphan girls in the Venetian Pio Ospedale della Pietà, a renowned violin virtuoso and a pioneer in the composition of concertos of various types. He composed over 500, of which more than 230 are for solo violin. His innovations in this genre included regular use of ritornello form (tutti theme alternating with solo episodes) in the fast outer movements, higher virtuosic standards for soloists and new strong, descriptive effects, such as orchestral unison. Published in 1725 as part of a larger set (Il cimento dell'armonia e dell'inventione, Op. 8), Vivaldi's most popular work, The Four Seasons, paints a picture of the passing of a year in the Venetto, with four concertos for solo violin, strings and basso continuo. The published version was accompanied by sonnets (possibly written by Vivaldi), repeated in the score where the description applies.
La Primavera (Spring)
In the first movement, the opening tutti announces the joy of spring 'with joyous song', returning between each subsequent picture. Bird trills are heard calling across to one another between the solo and orchestral violins and soft running notes in the violins depict 'the gentle brooks' and lightning and thunder are announced with repeated semiquavers and rapid scales and triplets, until 'the little birds return to fill the air with their song'.
In the Largo, the solo depicts the dozing sleeping goat-herd, while the violins murmur flowers of the meadow, and the violas represent the faithful dog barking.
The final Allegro uses 12/8 time for the nymphs and shepherds' dance to pastoral bagpipes.
L'Estate (Summer)
The stifling heat of August in the Venetto is almost tangible through the descending minor scales, the only sign of life coming from a cuckoo (heard in the bass), a turtle-dove and a goldfinch (the soloist). The north wind first comes gently with triplet pattern, but grows into a violent storm of semiquavers. 'The shepherd sobs because, uncertain, he fears the wild squall and its effects.' The stifling weather returns briefly and the soloist, accompanied with basso continuo alone, sobs with the shepherd. His fears are realised and the tutti brings back the storm in all its fury.
The Adagio describes the unrest of the fearful shepherd 'goaded by his fear of lightning and wild thunder', while tutti gnats and flies bother him.
In the Presto, tutti and solo bring back the north wind to wreak destruction over the landscape.
L'Autunno (Autumn)
This Allegro is easy to interpret: the harvest celebration is in full swing with the violin solo fiddling the dance. 'With Bacchus's liquor, quaffed liberally, their joy finishes in slumber.' As more and more wine is consumed, the drunks begin falling down, hiccupping, while some try to continue their dance and others fall into slumber. Those who are not drunk finish their dance.
The Adagio is the antidote, as 'each one renounces dance and song'. The sleeping drunks are pictured through muted strings and broken chords on the harpsichord.
The final Allegro is the hunt. Set in the key of F major, the natural key of the horn, the orchestra, and later the solo violin, play hunting horn calls. The animals try to escape through the triplets in the solo violin. Interspersed between tutti statements of the hunt theme, the solo depicts the exhausted animals, the fleeing, the fear, the dying.
L'Inverno (Winter)
The frozen Venetto is laid out, 'Frozen and trembling among the chilly snow', as the orchestra enters slowly, one part at a time. Trembling is heard with trills on the violins. Running passages in the solo bring in the horrid winds; repeated notes, the feet stamping; soloist double stops, the teeth chattering.
The beautiful Largo describes the relief of a fireside and 'contented peace (violin), while the rain outside pours in sheets' (pizzicato strings).
In the final Allegro, the solo depicts a tentative walk on the ice. There are no supporting harmonies here and when the tutti enters, it too is afraid of falling. Solo and tutti try to stay upright, but keep falling with descending passages. A brief Lento brings the listener back to the cosy fireside and the comforts of home, although the north winds continue to roar outside.
It is not at all surprising that these wonderfully descriptive concertos have captured the imagination of all listeners and remain so popular today. It is too easy to listen to them glibly and not appreciate their extraordinary invention and powers of description.
© Elizabeth Boulton
Violin 1
Simon Blendis
Sijie Chen
Nicoline Kraamwinkel
Ann Criscuolo
Martin Smith
Violin 2
Gemma Sharples
Clare Hayes
Jessica Coleman
Will Harvey

Viola
Sophie Renshaw
Christine Anderson
Richard Cookson

Cello
Sebastian Comberti
Thomas Isaac
Double Bass
Benjamin Russell
Keyboard
Martin Ennis
Violin 1
Susie Tucker
Sidney Patrick
Lara Martins
Shihiro Roberts
Violin 2
Millie Rogers
Arjun Nair
Anthony Hunter
Viola
Aleksander Boltromiuk
Cello
Maegan Affonso
Double Bass
Abigail Daly
Chief Executive Flynn Le Brocq
Concerts
Head of Artistic Planning Tegan Eldridge
Concerts & Orchestra Manager Sam Every
Orchestra Fixer Liam Kirkman
Librarian Alex Mackinder
Development
Business Development Manager Ceri Sunu
Fundraising & Operations Peter Wright
Fundraising Consultant Paul Hudson
Partnerships Director Trudy Wright
Marketing
Senior Marketing & PR Manager Anna Bennett
Digital Marketing Manager Charles Lewis
Marketing & Events Coordinator Jessica Peng
Finance
Bookkeeper Debbie Charles
Leader sponsored by Debbie Beckerman & Keith Jones
Leader sponsored by Anonymous
Co Leader sponsorship vacant
First Violin 3 sponsored by Liz and Alistair Milliken
First Violin 4 sponsored by John and Rosalind Crosby
First Violin 5 sponsored by Christine Robson
First Violin 6 sponsored by Della Brotherston
First Violin 7 sponsorship vacant
First Violin 8 sponsorship vacant
Principal Second Violin sponsored by Geoffrey Shaw
Second Violin 2 sponsored by The Angel Family
Second Violin 3 sponsored by Keith Ball
Second Violin 4 sponsored by Alastair Fraser
Second Violin 5 sponsorship vacant
Second Violin 6 sponsored by Catherine Shaw
Principal Viola sponsored by Mark and Vanessa Petterson
Co Principal Viola sponsored by Raymond Calcraft
Viola 3 sponsored by Gill Cox
Viola 4 sponsored by Stuart & Joyce Aston
Principal Cello sponsored by Anonymous
Co Principal Cello sponsored by Jeffrey and Sophie Prett
Cello 3 sponsored by Gillian Noble
Cello 4 sponsored by Richard Morgan
Cello 5 sponsored by Colin and Helen Snart
Principal Double Bass sponsored by John Clarke
Co Principal Double Bass sponsored by The Bristow Family
Principal Flute sponsorship vacant
Sub Principal Flute sponsored vacant
Principal Oboe sponsored by Pat Sandry
Co Principal Oboe sponsored by Sean Rourke
Sub Principal Oboe sponsored by Geoffrey & Joy Lawrence
Principal Clarinet sponsored by Derek and Deirdre Lea
Sub Principal Clarinet sponsored by Graham Harman
Principal Bassoon sponsored by Sandra and Anthony Linger
Sub Principal Bassoon sponsored by Barbara Tower
Principal Horn sponsored by Chris Harman
Sub Principal Horn sponsored by Julia James
Principal Trumpet sponsored by Ishani Bhoola
Sub Principal Trumpet sponsored by Cynthia Harrod-Eagles
Principal Trombone sponsorship vacant
Sub Principal Trombone sponsorship vacant
Principal Timpani sponsored by Cynthia Harrod-Eagles
Principal Percussion sponsorship vacant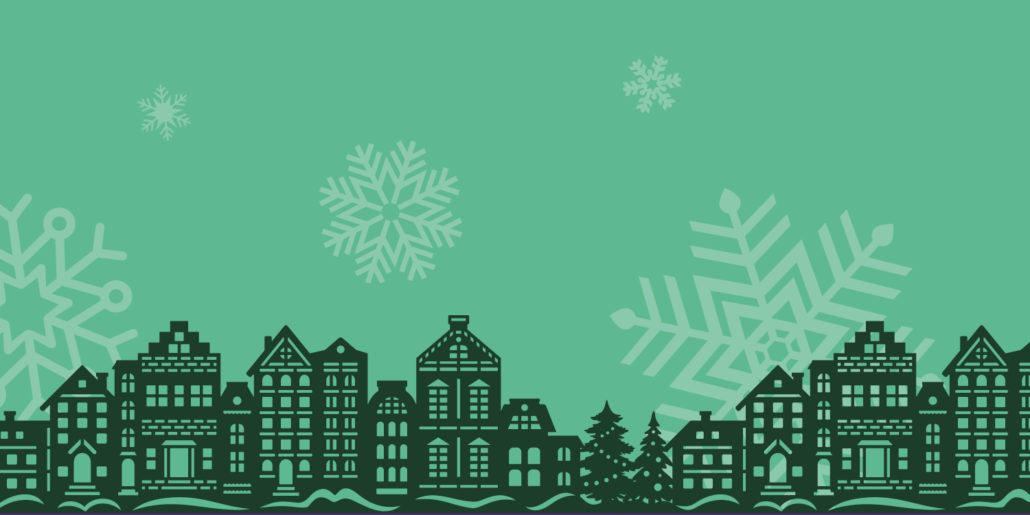 Christmas at Crystal Palace
9 December 2022
St John the Evangelist, Upper Norwood
This fun and informal concert will be a wonderful opportunity for families and friends to gather at St John's in SE19 to share the joy and memories that these melodies evoke.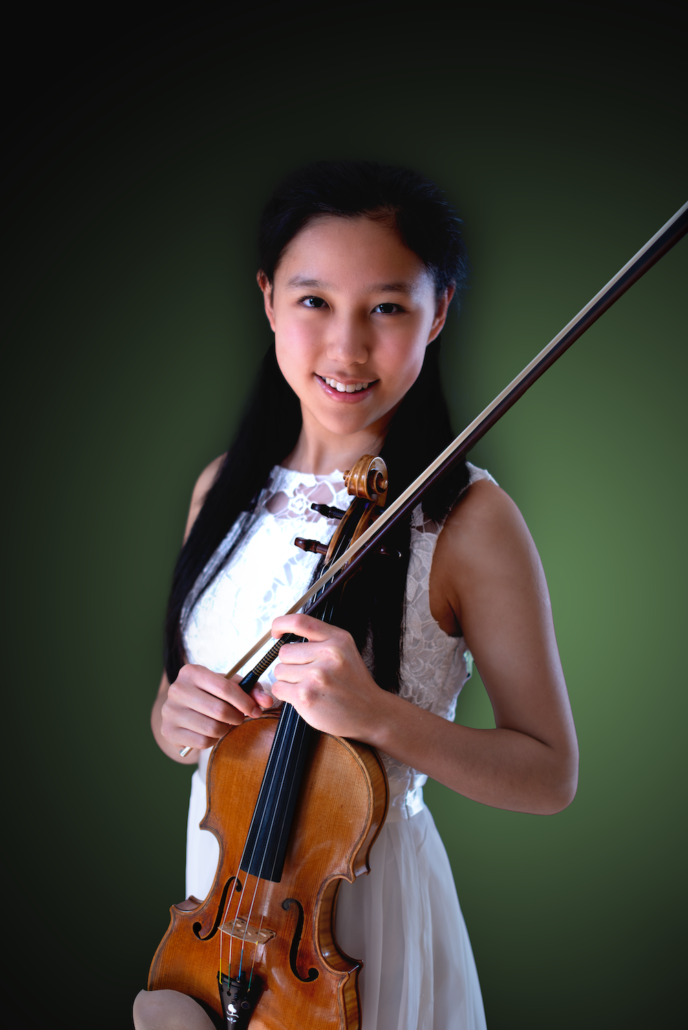 Lauded for her musical maturity, expressive interpretations and impressive technical ability, 16 year-old British violinist Leia Zhu is recognised as a star of the future. A student of renowned Ukrainian-Israeli violinist and pedagogue Itzhak Rashkovsky, since her debut at age four she has performed at prestigious festivals and venues in more than 15 countries around the world, and with numerous established orchestras and international artists.
Appointed Artist-in-Residence with the London Mozart Players in October 2021, she embeds herself within the orchestra, performing as featured soloist, leading play/direct programmes and in chamber music, while also playing a crucial role in the orchestra's community residencies in Croydon and Hastings, inspiring and motivating her peers through educational projects.
2022/23 season highlights include a series of debuts in Europe, with Tonhalle-Orchester Zürich and Paavo Järvi, Sinfonieorchester Wuppertal and Patrick Hahn, Festival Internacional de Música de Marvão with Christoph Poppen, and in the UK, with London Philharmonic Orchestra, Oxford Philharmonic Orchestra and Bath Philharmonia. She also returns to Festival Strings Lucerne, and Tel Aviv Soloists for a 4-city tour of Israel, while appearing in recital in the UK, in Oxford, Salisbury and Newcastle.
In August 2021, Zhu debuted at age 14 with London Symphony Orchestra and Sir Simon Rattle, as part of the orchestra's annual BMW Classics concert in London's Trafalgar Square, and later that following season with Lucerner Sinfonieorchester, as well as in recital at Tonhalle Zürich, Menuhin Festival Gstaad and St. Martin-in-the-Fields in London.
In May 2022, at age 15 she became a Patron of The HarrisonParrott Foundation with a focus on expanding interest in classical music for all generations. In July of the same year, Leia Zhu is the youngest musician, after pianist Bruce Liu, 25, and conductor Klaus Mäkelä, 26, to be included on the list of 30 brilliant young musicians all under the age of 30 by Classic FM for its 30th birthday special edition.
Zhu performs in major concert venues across Europe, such as Royal Festival Hall, Cadogan Hall, Barbican Centre and Milton Court in London, BOZAR in Brussels, Mozarteum Grosser Saal in Salzburg, KKL in Lucerne, Berliner Philharmonie, Moscow's Tchaikovsky Concert Hall and The Mariinsky Theatre in St Petersburg.
She has also appeared at prestigious festivals, including Rheingau Musik, MozartFest Würzburg, Interlaken Classics, White Nights and Musical Olympus in St Petersburg and Vadim Repin's Trans-Siberian Art, with selected performances broadcasted on BR/Deutschlandradio and BBC Radio 3.
Special collaborations include playing with Belgium National Orchestra in 2016, conducted by Maxim Vengerov, performing with Noah Bendix-Balgley (Berliner Philharmoniker's concertmaster) in 2017, and sharing the stage with Roby Lakatos, accompanied by the Russian State Symphony Orchestra, broadcast live to an audience of millions in 2018.
In producing her own regular videos, Zhu is a confident communicator and passionate advocate for classical music. She has been featured by international media including Classic FM, BBC News, ITV, Sky News, The Strad magazine, Violin Channel and Violinist.com, as well as news channels and newspapers in Austria, Bulgaria, Italy, Spain, Switzerland, Russia, Germany, Israel, Greece and USA.
She regularly posts videos on her popular YouTube channel, where she shares her joy of music, composers and creativity, which attracts thousands of subscribers and views.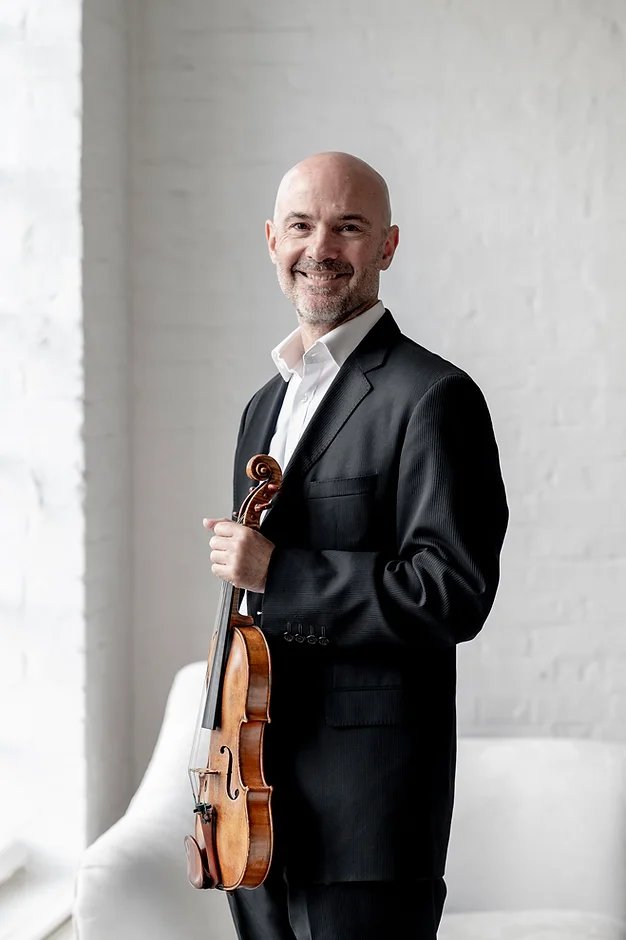 Simon Blendis enjoys an international career as a chamber musician, concertmaster and soloist.
He was the violinist with the Schubert Ensemble from 1995-2018, when the Ensemble retired after a celebrated 35 year career.
With the Ensemble, Simon performed in over thirty different countries, recorded over twenty CDs of music ranging from Brahms to Judith Weir, made frequent broadcasts for BBC Radio 3 and appeared regularly at Europe's major venues such as the Wigmore Hall in London and the Concertgebouw in Amsterdam. In 1999 the group won the prestigious Royal Philharmonic Society Award for best chamber group, for which it was shortlisted again in 2010.
The Ensemble left behind a significant legacy including 50 commissions and a major library of filmed performances on its YouTube channel, details of which can be found at www.schubertensemble.com
Alongside his work in the Ensemble, Simon has shared the position of First Concertmaster with Orchestra Ensemble Kanazawa in Japan since 1999, and in 2014 was appointed Concertmaster of the London Mozart Players, the UK's oldest chamber orchestra. In addition to leading the orchestra, he regularly directs from the violin, and performs as soloist and with the LMP Chamber Ensemble.
Simon is also in demand as a guest concertmaster: he has appeared with most of the UK's major orchestras, including all of the London orchestras, as well as with several orchestras abroad, including the Orquesta Nacional de Espana and the Mahler Chamber Orchestra. He has appeared as a guest-director with the Academy of St. Martin in the Fields, the Scottish Ensemble and the English Chamber Orchestra.
A keen exponent of new music, Simon has given over 50 first performances, and has had new pieces written for him by, amongst others, Tansy Davies, Stuart Macrae, John Woolrich and jazz legend Dave Brubeck. He has premiered new violin concertos written for him by David Knotts (2013) and Jeff Moore (2017).
As a soloist he has performed and recorded with the Philharmonia Orchestra, Royal Philharmonic Orchestra, English Chamber Orchestra, Academy of St. Martin-in-the-Fields, Bournemouth Symphony Orchestra and the BCMG in the UK and with Orchestra Ensemble Kanazawa in Japan, with whom he has recorded Vivaldi's Four Seasons for the Warner Japan label. 
During the recent Coronavirus lockdowns Simon undertook a research project into the salon music legacy of legendary light music violinist, Max Jaffa, and the resulting CD will be released in July 2022. 
Simon is increasingly sought after as a teacher, and is a Professor of Violin at the Guildhall School of Music and Drama.