Top playlist recommendations from Benjamin Russell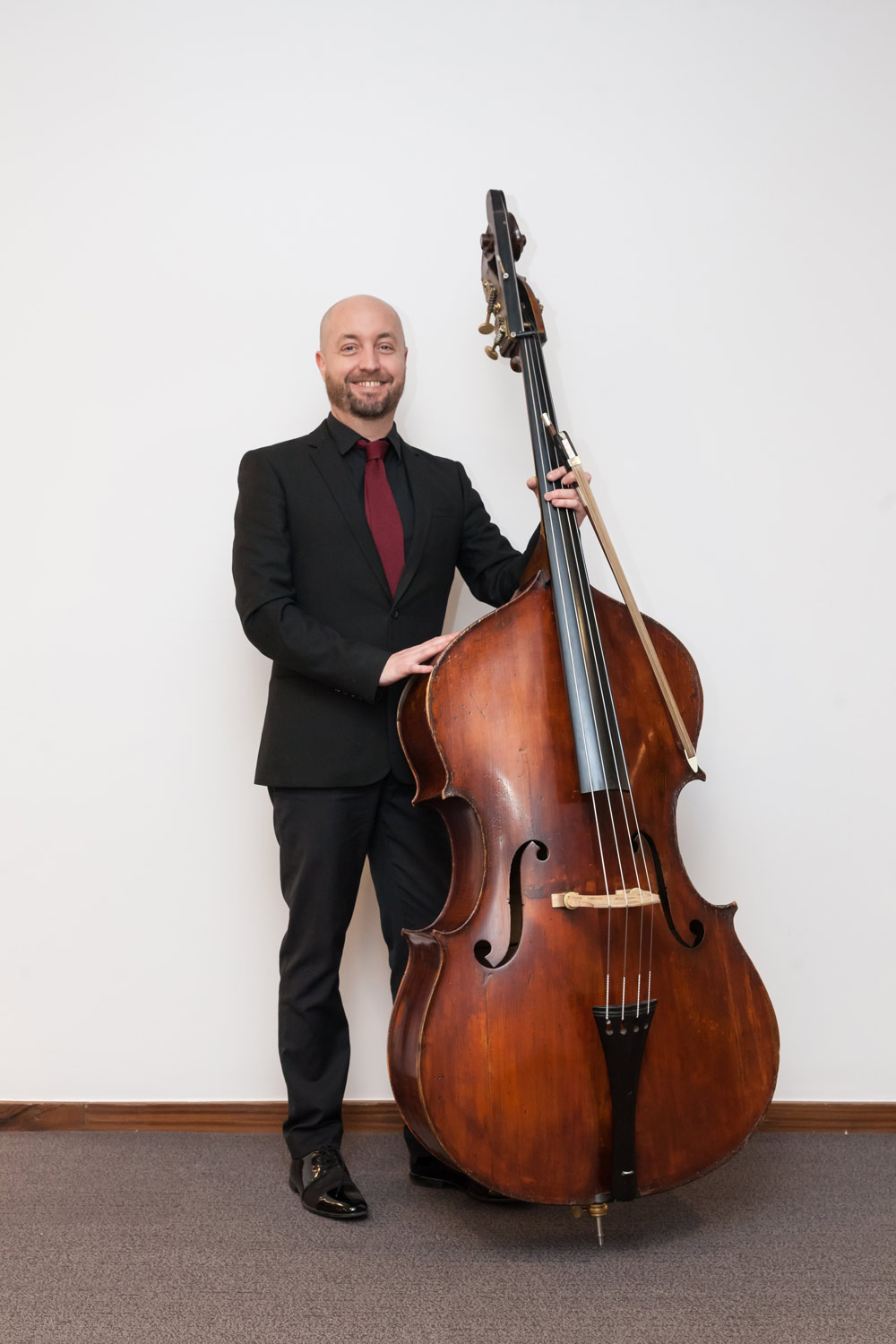 Hello there. Ben Russell here. I'm the newest member of the LMP having been asked to join in January as Principal Double Bass.
So, I'm sat here at my kitchen table in sunny Orpington (actually it's not sunny but rather 'dreich', as my husband would say). I, like most of the world am self isolating for the foreseeable future and while I'm not allowed to do any concerts I thought I'd pretend I am somewhere beautifully sunny and jot down my Desert Island Discs. (Actually I don't own any discs anymore, be that vinyl or cds, so let's call this Desert Island Downloads)
Now, I should probably put a small warning in here – there is going the a lot of singing in this list, in fact every piece involves singing of some kind. I am obsessed with the human voice and what it can do (good job really as I am married to a singer…..)
Anyway, the discs/downloads…
1. Mozart – Mass in C minor, Kyrie
It all started with Mozart. Good job really, having ended up playing in this group. I remember seeing the film Amadeus when I was about 10 and becoming obsessed with it. I found the parts with the man in the mask terrifying, but the music really caught me- I never dreamt that I would one day get too work with the orchestra and conductor on the soundtrack. My favourite part is about 4 mins into this video, when the soprano soloist sings right from the top to the bottom of her voice. Stunning!
2. Britten – Serenade for Tenor, Horn & Strings, Dirge
When I did my music A level, this was one of the pieces we studied, and it opened a whole new sound world to me. The singer just sings the same line over and over while the basses and cellos start up a diabolical fugue. It is also the piece that introduced me to the idea of chamber orchestras. One of my teachers at Guildhall told me to learn it and then invited me to come and play in the Britten Sinfonia – My first professional gig!
3. Bernstein – 'A boy like that' West Side Story
When I was in the National Youth Orchestra of Great Britain, we got to play the orchestral suite to West Side Story at the Proms. It was probably the most exciting concert I had even done. I love this version performed by Tatiana Troyanos and Kiri Te Kanawa partly because they are both amazing singers (Troyanos died far too soon of cancer, but there are several great recordings of her) and partly because this comes from a documentary made about Leonard Bernstein recording this piece. You get to see him screaming at singers for having no sense of rhythm, which rings bells for me…. (I am often asked to note-bash things on the piano for my husband and some of his singer friends. I do a very good impersonation of LB).
4. James Macmillan – Stabat Mater, 3rd mov
Every so often this job takes us to some of the most phenomenal places (even better than Croydon) and lets us be involved in the birth of great new art works.
I have been lucky enough to play in the premiere performance of several of James Macmillan's works but this piece is my absolute favourite. We have toured it all over Great Britain as well as taking it to New York and, most excitingly, getting to play it for this video in the Sistine Chapel! There have only been one or two concerts in the chapel ever, so we were very aware of the great honour.
5. Thomas Adès – The Tempest
I went to see this opera at the Royal Opera House in 2007 and remember thinking that it was quite unlike anything I'd heard before. Aside from anything else, Adès seemed to have persuaded every famous British Opera singer of the time to be in it.
This particular part is so astonishing because of how high he makes his singer Audrey Luna sing. It is higher than the Queen of the Night has to sing.
Such was my obsession with this piece that I managed to make a ringtone from one of the high bits. It scares the hell out of my dogs but made sure I never missed the phone. I stopped using it when my phone went off in a rehearsal with Tom Adès! (He joked that I probably owed him for copyright).
6. Dan Gillespie-Sells – 'He's my boy', Everybody's talking about Jamie
This show has been around for a few years now and is currently (or will be when theatres open again) both in the West End and on tour.
It tells the story of a teenage boy growing up in Sheffield. All he wants is to become a drag queen. It is based on real life and, in my opinion, is one of the most uplifting and important pieces of musical theatre around.
This song is particularly poignant to my husband and I as we have both lost our mothers in the last few years.
7. Regina Spektor – Après Moi
Regina Spektor is a Russian born American singer, song writer and pianist. She is most famous for writing the theme song for the Netflix show Orange is the New Black. I got to know her music when I played on an album which Peter Gabriel made, called Scratch My Back. It's an album of covers of other people's songs arranged for him and an orchestra by a viola player called John Metcalfe.
8. Wagner – Vengeance Trio, Götterdämmerung
I listen to the Ring Cycle pretty much everyday. Most of my friends think this is slightly strange but I have discovered that it is the perfect music to walk my dogs to. I'm not sure they like it but it means they get long walks!
It helps that they are named Alberich and Fricka – kudos to anyone who makes the Wagner connection to their names!