The world premiere of Matthew Olyver's Concerto in Clockwork
Old Masters, Young Talent – Saturday 12 October, 7pm
ST JOHN THE EVANGELIST, SE19 2RX
Old Masters, Young Talent is the dynamic opening concert that launches the LMP's 2019/20 classical music season at St John's Upper Norwood, and sets the tone for a series full of virtuoso performances that encompasses old friends and new acquaintances. Alongside a programme of Mozart, Haydn and Prokofiev, and featuring a performance from prize-winning pianist Soma Balázs-Piri, LMP will also perform a new commission – 'Concerto in Clockwork' written by young composer Matthew Olyver, winner of the Arts Society prize.
We caught up with Matthew to bring you the inside scoop on this new piece of music.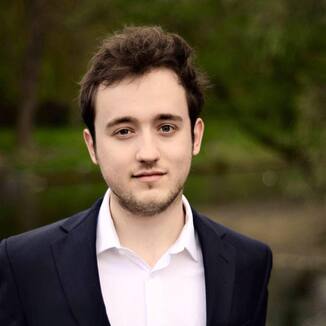 'Concerto in Clockwork' & The Arts Society Prize
by Matthew Olyver
The Arts Society Greater London is made up of 25 Societies all of which have a wide programme of lectures, study days and visits. Many of these societies are also involved in their grant giving programme. Working in conjunction with the Royal Academy of Music, their postgraduate composers were asked to apply for a commission to write a new piece for this concert.  
This year, it was an enormous pleasure and honour for me to be the winner of this competition and to write a neo-classical concerto for the sensational young pianist Soma Balázs-Piri and the brilliant London Mozart Players. 
When I was commissioned by the Arts Society to write a neo-classical concerto for the London Mozart Players, I immediately began to think about how musical history can exist as a form of musical time within one piece.  
The musical environment of my concerto can be best described as a strange type of time machine, jumping between Mozartian music and Baroque music that is infused by features of my own compositional style. While wanting my piano concerto to refer to the very roots of when the LMP was formed – a chamber orchestra established to specifically play the classical repertoire, I also wanted to stamp my own identity onto the concerto. I feel that the sense of tension between the old and the new is what makes this concerto a real 'Olyver' piece. 
At various points in the concerto, the music becomes completely free from pulse, or indeed, any clear mechanism that keeps time. Musical colours and shades nonchalantly emerge at their own leisure. In the musical score, the lyrical piano line is marked 'with freedom' and Soma is asked to play as if he is 'lost in clockwork'.   
As this timeless section develops, the solo strings gently introduce some musical pulse. Once the pulse is finally established, the music explodes into a Mozartian melodic gesture over harmony reminiscent of J.S. Bach. In this climax, I tried to capture a glorious glow that can be heard as a celebration of the London Mozart Players and the core repertoire they specialise in.  
I am very excited to hear Soma Balázs-Piri and the London Mozart Players bring Concerto in Clockwork to life. It is a huge honour to be in a position in which I am writing for such incredible musicians. I would like to thank the Arts Society for making this commission possible.  

Old Masters, Young Talent
Saturday 12 October, 7pm
St John the Evangelist, SE19 2RX
Prokofiev Symphony No.1 in D Op.25 'Classical'
Mozart Piano Concerto in D minor, K.466
Matthew Olyver Concerto in Clockwork
Haydn Symphony No.104 in D 'London'
Tickets £5-£35
Earlybird 15% discount available until 4th October.