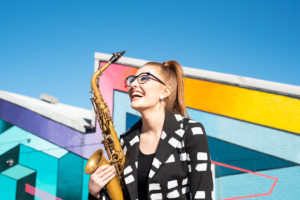 Jess Gillam at Chichester Cathedral 
Hello! Read below to find our more about the people, pieces and instruments in this concert.
Symphony No. 44 in E minor
Haydn (1732-1809)
by Stefan de Haan
I Allegro con brio
II Menuetto: Allegretto
III Adagio
IV Presto
When Haydn composed his Symphony No. 44 he had been in the services of Prince Esterhazy for about ten years. The work probably dates from 1771 and reflects the excellence of the Esterhazy orchestra at that time. Up to the early 1770s Haydn had in his ensemble some of the best horn players in Europe, and in his symphonies of that period – including Symphony No. 44 – the horn parts are extremely difficult. His principal horn player was a Bohemian, Thaddaus Steinmuller, who specialised in playing very high notes; the other members of the horn team must also have been virtuosos, as when Steinmuller and his colleagues left the Esterhazy orchestra Haydn gave their successors much less adventurous parts to play.
It has been said that Symphony No. 44 is to be understood as a lament over the death of a hero, and it is known that Haydn requested that the Adagio should be played at his funeral. For one or both of these reasons the work is known as the Trauer Symphony ('Trauer' means mourning). It is indeed a dark and serious work, and the first and last movements have an unusually dramatic intensity to which only the gentle Adagio in E major provides a contrast.
Concerto in C minor for soprano saxophone
Marcello (1686-1739) arr. Harvey Pittel (b.1943)
by Sesha Wallace
I Allegro Moderato
II Adagio
III Allegro
Benedetto Marcello was an Italian composer and writer born in Venice in 1686. Marcello's compositions include operas, oratorios, cantatas, madrigals, concerti and sonatas. He is best known for his work Estro poetico-armonico, a musical setting for voices and instruments of the first 50 Psalms in an Italian paraphrase by G. Giustiniani.
Marcello's Concerto in C minor, originally composed for oboe, was transcribed for soprano saxophone by Harvey Pittel. The three movements of this work are characteristic of the Baroque style. Techniques employed by Marcello include the use of terraced dynamics, ornaments such as trills and grace notes and semiquaver passages that are passed between the saxophone and piano.
Concerto for Saxophone and Strings
Glazunov (1865-1936)
by Stefan de Haan
The Belgian instrument maker, Adolphe Sax, invented and developed the saxophone after 1840.  He had originally designed the instrument for military bands in order to restore the balance between the potentially aggressive brass and the gentle woodwind, hoping at the same time that it would also be useful in the concert orchestra.
In Paris, where he eventually moved from Belgium, he experienced strong reactions for and against the sound of the new instrument.  Nothing like it had ever been heard before.  Furthermore, a classification of the saxophone as belonging to either the brass or woodwind family was impossible because the body of the instrument was made of metal, while the mouthpiece with its single reed was clearly that of the clarinet.  Berlioz declared with much enthusiasm that 'the qualities of this new addition to the orchestra were rare and precious,' and it has indeed been used with great effect in orchestral solo passages by, for instance, Bizet, Ravel and Kodàly.
These passages are impressive, but they do not allow the saxophone enough scope for displaying all its 'rare and precious qualities.'  Only a solo concerto can provide such opportunities, in particular if the accompaniment is provided by a string orchestra without wind instruments – and that is precisely the form chosen by Glazunov for the work we are going to hear in this concert.
As a Russian, Glazunov was influenced, of course, by the folk music of his people but as a composer, he was not a nationalist.  He refused to attach himself to any particular trend in composition, and his astonishing musical talent allowed him to be original without even trying.  His independent spirit eventually puzzled audiences, and this is why his works are not performed, at least in western Europe, with the frequency they deserve.
Glazunov's Concerto for Saxophone and Strings is a late work.  It dates from 1934 and was written in Paris where the composer died two years later.  The solo instrument chosen from the large saxophone family is the alto saxophone in E flat, and E flat is also the key of this work.
While the classical concerto usually has three separate movements, the Saxophone Concerto by Glazunov is continuous although it has distinct sections which are easily recognised as such.  The opening of the work demonstrates that the strings are not merely accompanying the soloist but take an important part in developing the thematic material which recurs in various guises throughout the concerto.  The basic tempo of the first section, Allegro Moderato leads to an  Andante beginning in the remote key of C flat major.  It is followed, after a solo cadenza, by the final Allegro, the most extended section of the work which ends, as it must, in the home key E flat major.
I Allegro moderato
II Andante
III Menuetto
IV Allegro con spirito
Count Hieronymus Colloredo, whom Mozart served as the leader of his orchestra, was elected Archbishop of Salzburg in March 1773. The happy atmosphere that had distinguished the reign of his predecessor was a thing of the past. Colloredo lost no time in curtailing the comparative freedom of his musicians and the other members of his miniature court. Mozart's father soon began looking for a more liberal employer, not so much for himself (he also played violin in the Salzburg orchestra) as for his son Wolfgang. During their concert tour in Italy in 1772 he had tried hard to secure a post for him, but without success. He had no better luck in Vienna where he went with his son in the summer holidays of 1773. Since none of the plans materialised, there was nothing left for them but to return to Salzburg.
However, Mozart was 17 years old at the time, and conditions of employment were not his main concern. While in Vienna, he was too busy listening to new music to worry about the future. He heard the latest compositions of Gluck and Dittersdorf, and the new instrumental works of Haydn left a profound and lasting impression on him.
Back in Salzburg Mozart produced a number of masterpieces in rapid succession. They included a group of four symphonies, among them Symphony No. 29. Most of his earlier symphonies had consisted of three movements in the tradition of the Italian overture. Now, in this symphony, he adopted the new Viennese form by adding a minuet and trio and by enlarging the proportions of the other three movements. Of these, the Andante is like an aria, played in long tender phrases by muted violins, while the final Allegro deserves the additional indication con spirito as much as any of Mozart's symphonic movements. As a whole the work has such well-balanced proportions and is so full of the happiest inventions that it does not give the impression of being the result of an experiment. Indeed, it sounds as if Mozart had already spent a lifetime in perfecting the musical form of the Viennese symphony.
Solo Saxophone Jess Gillam
Director/Leader Ruth Rogers
Conductor (Glazunov and Mozart) Thomas Hull
Violin 1
Ruth Rogers
Sijie Chen
Victoria Sayles
Ann Criscuolo
Anna de Bruin
Harriet Haynes
Violin 2
Jennifer Godson
Antonia Kesel
Clare Hayes
Jeremey Metcalfe
Lucy Waterhouse
Viola
Sophie Renshaw
George White
Katie Perrin
Diana Matthews
Cello
Sebastian Comberti
Chris Murray
Sarah Butcher
Double Bass
Paul Sherman
Lucy Shaw
Oboe
Christopher O'Neal
Alison Alty
Horn
Jon Farey
Martin Grainger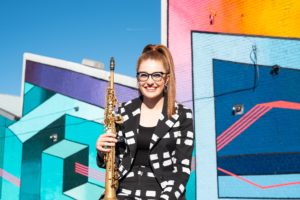 Jess Gillam
solo saxophone
---
Hailing from Ulverston in Cumbria, Jess Gillam is animating the music world with her outstanding talent and infectious personality. She has been forging her own adventurous path since she shot to fame becoming the first saxophonist to reach the finals of BBC Young Musician and the youngest ever soloist to perform at the Last Night of the Proms. Passionate about inspiring and bringing joy to people through music, Jess invites audiences on journeys of musical discovery through her electrifying performances and eclectic programming.
As well as performing around the world, Jess is a presenter on TV and Radio. She became the youngest ever presenter for BBC Radio 3 with the launch of her own weekly show, This Classical Life. The show is in its third year now and in 2020 won the prestigious ARIA Award for Best Specialist Music Show. Jess has presented a special live edition of This Classical Life at the Southbank Centre's Royal Festival Hall. She has also been a guest presenter for BBC Radio 2 and co-hosted a miniseries for BBC Radio 4's Today Programme. Keen to explore the creative output of her home county, Jess presented a series of Cumbrian Chats on BBC Radio Cumbria. TV presenting includes the BBC Proms and BBC Young Musician.
Jess is the first ever saxophonist to be signed exclusively to Decca Classics and both of her albums reached No. 1 in the UK Classical Music Charts. Her debut album was listed in The Times Top 100 albums of 2019. She has been the recipient of a Classic BRIT Award, has been nominated for The Times Breakthrough Award and was awarded an M.B.E. in the Queen's Birthday Honours list 2021 for Services to Music.
A free spirit in style and character, Jess is an advocate for the power of music in society. She is passionate about inspiring and bringing joy to people through music and during lockdown, she formed her 'Virtual Scratch Orchestra', inviting musicians of any standard to come together to play music virtually with her. The orchestra played music by David Bowie and The Beatles as well as a Christmas special of Leroy Anderson's 'Sleigh Ride'. Over 2,000 people from around 30 different countries took part across the two projects, aged 2-94, playing a huge range of instruments. Jess is a patron for Awards for Young Musicians and London Music Fund and enjoys working and performing with young musicians.
Her infectious enthusiasm and passion for classical and non-classical music lights up every stage and she has performed in prestigious concert halls and with world-class orchestras around the globe including the NDR Hannover, Gothenburg Symphony Orchestra, Iceland Symphony Orchestra, Minnesota Symphony Orchestra, Munich Philharmonic, Lahti Symphony Orchestra and the UK's leading orchestras. She also enjoys touring with her newly-formed Jess Gillam Ensemble bringing together a group of brilliant musicians who share her bold, uplifting and open-minded approach. Jess has performed live at the BAFTAs to millions of viewers at home.
Jess is currently Artist in Residence at the Wigmore Hall, an European Concert Hall Organisation (ECHO) Rising Star which sees her performing at many of the top concert halls across Europe and she continues to promote her own concert series, bringing international talent to her hometown of Ulverston.
Jess is a Vandoren UK Artist and became the youngest ever endorsee for Yanagisawa saxophones aged just 13.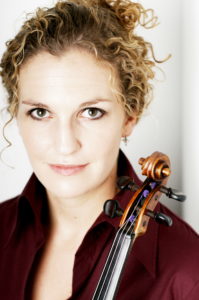 Ruth Rogers
director
---
Born in London in 1979, Ruth Rogers began violin lessons at the age of five. In 1997 she was awarded a Foundation Scholarship to the Royal College of Music to study with Itzhak Rashkovsky, where she won many major prizes and awards. Ruth graduated in 2001 with First Class Honours and was awarded the Tagore Gold medal – the College's highest accolade – by HRH The Prince of Wales. Further study followed in the Netherlands with Herman Krebbers.
As a soloist, Ruth's playing has been described as "not calculated in any sense, her performance style and technique so assured that the music flows as a natural consequence of innermost understanding. Ruth Rogers must be one of the most gifted young violinists in Britain." (Musical Opinion.) Winner of the prestigious Manoug Parikian Award and chosen as a 2004 Young Artist by the Tillett Trust, Ruth also reached the Finals of the YCAT competition, Royal Overseas League, and the BBC Radio 2 Young Musician of the Year. She gave her London debut recitals at the Wigmore Hall and the Purcell Room in 2003 and has also appeared as a soloist at the Royal Albert Hall, St John's Smith Square and many other venues.
From 2008 until 2012 Ruth was the co-leader of the Bournemouth Symphony Orchestra. Ruth also performs with the John Wilson Orchestra. In March 2015 Ruth was appointed as one of the Leaders of the London Mozart Players. She regularly guest leads the Scottish Chamber Orchestra, City of Birmingham Symphony Orchestra, BBC Philharmonic Orchestra, Royal Scottish National Orchestra and Aurora Chamber Orchestra and has appeared in principal roles with the Hallé, Philharmonia and RLPO. She has led orchestras under the batons of such maestros as Lorin Maazel, Daniele Gatti, Sir Colin Davis and Sakari Oramo, and has performed concertos with the City of London Sinfonia, City of Oxford Orchestra, London Strings, and New London Soloists Orchestra.
As chamber musician, Ruth has performed at the Aldeburgh and Bath Festivals with the Tate Ensemble and with pianist John Lill in Shostakovich's piano quintet. She is a member of the Iuventus String Quartet and the Aquinas Piano Trio and has appeared at the Wigmore Hall with the Nash Ensemble. In February 2009 Ruth reached the final of an International Duo Competition with Martin Cousin – the Franz Schubert and Modern Music International Competition which took place in Graz, Austria. They were one of five duos in the final, chosen from thirty-seven participating duos.
Ruth was chosen personally by Lorin Maazel to perform with the tenor Andrea Bocelli in a series of concerts, which has led to television and radio broadcasts and further concerts worldwide at such venues as the Pyramids in Cairo, the Acropolis in Athens, and the Piazza del Campo in Siena. They performed together at the Royal Albert Hall with the English Chamber Orchestra for the Classical Brit Awards. Ruth has given recitals at the Brighton, Buxton, Harrogate and Warwick Festivals thanks to the Tillett Trust. She has given recitals with Martin Cousin in Indonesia and Thailand.
In 2006 Ruth played to orphans, refugees, malaria patients and land-mine victims on the Thai-Burma border and in 2008 she went back there again with the Iuventus Quartet. In February 2006, Ruth's debut recital CD was released. Recorded with pianist Sarah Nicolls, it features works by Handel, Elgar, Ginastera, Massenet, Fauré, Kreisler and Kroll. The CDs are £10 each and you can order copies by emailing info@ruthrogers.net with your name, address, telephone number, and the number of copies requested. Proceeds from the CD sales will go to help those in need on the Thailand-Burma border. Ruth has also recorded Piazzolla's 'History of the Tango' with guitarist Morgan Szymanski, and released several discs as a member of the Aquinas Piano Trio.