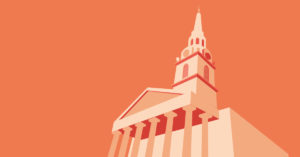 Mozart at St Martin-in-the-Fields 
Hello! Read below to find our more about the people, pieces and instruments in this concert.
Mozart (1756 – 1791)
by Ian Lush
I Marcia
II Menuetto
III Rondo
Mozart wrote this serenade, which he called Serenata Notturna, in January 1776, for the orchestra in Salzburg of which he was the leader. By this stage in his career, aged 20, Mozart was beginning to resent the shackles of the conditions of his employment by Archibishop Colleredo in Salzburg, and also the overbearing presence of his father, Leopold. He longed to escape and try to establish himself on his own, but it was to be another five years before he finally made the break and moved to Vienna, where he spent the last ten years of his life.
Mozart wrote his serenades for celebrations and ceremonial occasions at the court, and they were often intended as background music. Despite this, Mozart lavished great care on their composition, and chose original and unusual orchestral groupings to add variety. This work is no exception, and is scored for string orchestra plus five soloists: two violins, viola, double bass (rather than the expected cello) and, in a touch of great originality and humour, timpani.
The opening movement is a march, which has a certain ironic pomposity to it – perhaps even a dig at Mozart's employer. In the Menuetto the solo instruments play with the rest of the orchestra, but they have the Trio of the Menuetto to themselves, with a particularly prominent role for the second violin. The last movement is a Rondo, a musical form in which one main theme is repeated several times with intervening sections known as 'episodes'; its tempo indication is a graceful allegretto, although the episodes include adagio and allegro sections.
Mozart (1756 – 1791)
by Stefan de Haan
I Allegro aperto
II Adagio
III Tempo di Menuetto
Mozart composed his five violin concertos at the age of 19, during the period when he was the leader of the orchestra in Salzburg. He loved the violin and played it frequently as a soloist, though virtuosity for its own sake did not appeal to him ('you don't know how well you play the violin', his father wrote to him two years later). His compositions of that time included, as a matter of course, a great deal of solo work for the violin and it was only when he settled in Vienna as a freelance composer that he abandoned the instrument in favour of the piano.
All five violin concertos were completed between March and December 1775. The Concerto in A, K219, the last of these, is dated 20 December. It has the traditional three movements, but as regards the musical ideas the concerto contains a number of unusual features and happy inventions. The first entry of the soloist is not, as expected, a continuation of the orchestral exposition, but an entry of new Adagio of surprising beauty. The second movement recalls the lyrical mood of this Adagio and the finale also has its surprises, notably the noisy and amusing episode of Turkish music based on a ballet written by Mozart in 1772 and the wistful, unexpected ending.
Mozart (1756 – 1791)
by Stefan de Haan
I Allegro moderato
II Andante
III Menuetto
IV Allegro con spirito
Count Hieronymus Colloredo, whom Mozart served as the leader of his orchestra, was elected Archbishop of Salzburg in March 1773. The happy atmosphere that had distinguished the reign of his predecessor was a thing of the past. Colloredo lost no time in curtailing the comparative freedom of his musicians and the other members of his miniature court. Mozart's father soon began looking for a more liberal employer, not so much for himself (he also played violin in the Salzburg orchestra) as for his son Wolfgang. During their concert tour in Italy in 1772 he had tried hard to secure a post for him, but without success. He had no better luck in Vienna where he went with his son in the summer holidays of 1773. Since none of the plans materialised, there was nothing left for them but to return to Salzburg.
However, Mozart was 17 years old at the time, and conditions of employment were not his main concern. While in Vienna, he was too busy listening to new music to worry about the future. He heard the latest compositions of Gluck and Dittersdorf, and the new instrumental works of Haydn left a profound and lasting impression on him.
Back in Salzburg Mozart produced a number of masterpieces in rapid succession. They included a group of four symphonies, among them Symphony No. 29. Most of his earlier symphonies had consisted of three movements in the tradition of the Italian overture. Now, in this symphony, he adopted the new Viennese form by adding a minuet and trio and by enlarging the proportions of the other three movements. Of these, the Andante is like an aria, played in long tender phrases by muted violins, while the final Allegro deserves the additional indication con spirito as much as any of Mozart's symphonic movements. As a whole the work has such well-balanced proportions and is so full of the happiest inventions that it does not give the impression of being the result of an experiment. Indeed, it sounds as if Mozart had already spent a lifetime in perfecting the musical form of the Viennese symphony.
Violin 1
Ruth Rogers
Martin Smith
Anna de Bruin
Harriet Haynes
Nicola Gleed
Violin 2
Antonia Kesel
Gemma Sharples
Clare Hayes
Jessica Coleman
Viola
Bryony Gibson-Cornish
Jisu Song
Oliver Wilson
Cello
Sebastian Comberti
Double Bass
Benjamin Russell
Oboe
Gareth Hulse
Katie Clemmow
Horn
Nicholas Korth
Martin Grainger
Timpani
Benedict Hoffnung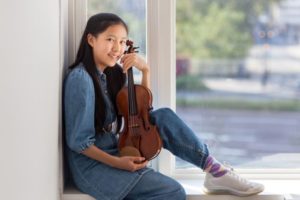 Leia Zhu
solo violin
---
Born in London in 1979, Ruth Rogers began violin lessons at the
Lauded for her musical maturity, expressive interpretations and impressive technical ability, 15 year-old British violinist Leia Zhu is recognised as a star of the future. A student of internationally renowned Ukrainian-Israeli violinist and pedagogue Itzhak Rashkovsky, since her debut at age four she has performed at prestigious festivals and venues in more than 15 countries around the world, and with numerous established orchestras and international artists.
Appointed Artist-in-Residence with the London Mozart Players in October 2021, she embeds herself within the orchestra, performing as featured soloist, leading play/direct programmes and in chamber music. Leia also plays a crucial role in the orchestra's community residencies in Croydon and Hastings, inspiring and motivating her peers through educational projects.
2021/22 season highlights include multiple engagements with London Mozart Players, a return to English Chamber Orchestra at Cadogan Hall, concerts at KKL Luzern with Festival Strings Lucerne and Lucerne Symphony Orchestra, Sage Gateshead, a three-city tour to Italy, and recital debuts at Tonhalle Zürich, Biblioteksaal Polling, Menuhin Festival Gstaad and Academy of St. Martin-in-the-Fields in London.
In August 2021, Zhu debuts at age 14 with the London Symphony Orchestra and Sir Simon Rattle, as part of the orchestra's annual BMW Classics concert in London's Trafalgar Square, a concert already postponed from the previous year due to the pandemic.
Zhu performs in major concert venues across Europe, such as Royal Festival Hall, Cadogan Hall, Barbican Centre and Milton Court in London, BOZAR in Brussels, Mozarteum Grosser Saal in Salzburg, KKL in Lucerne, Berliner Philharmonie, Moscow's Tchaikovsky Concert Hall and the Mariinsky Theatre in St Petersburg.
She has also appeared at prestigious festivals, including Rheingau Musik, MozartFest Würzburg, Interlaken Classics, White Nights and Musical Olympus in St Petersburg and Vadim Repin's Trans-Siberian Art, with selected performances broadcasted on BR/Deutschlandradio and BBC Radio 3.
In 2019, Zhu embarked on a six-city tour of Israel with the Tel Aviv Soloists Ensemble, and she has previously toured Switzerland and Germany with Festival Strings Lucerne, performed across the north of England as soloist with the English Philharmonic Ensemble, and toured Spain with the Los Angeles-based Classical Concert Chamber Orchestra.
Special collaborations include playing with National Orchestra of Belgium in 2016, conducted by Maxim Vengerov, performing with Noah Bendix-Balgley (Berliner Philharmoniker's concertmaster) in 2017, and sharing the stage with Roby Lakatos, accompanied by the Russian State Symphony Orchestra, broadcast live to an audience of millions in 2018.
In producing her own regular videos, Zhu is a confident communicator and passionate advocate for classical music. She has been featured by international media including Classic FM, BBC News, ITV, Sky News, The Strad magazine, Violin Channel and Violinist.com, as well as news channels in Bulgaria, Italy, Spain, Switzerland, Russia, Germany, Israel, Greece, the US and Austria, and newspapers and online media around the world.
She regularly posts videos on her popular YouTube channel, where she shares her joy of music, composers and creativity, which attract thousands of subscribers and views.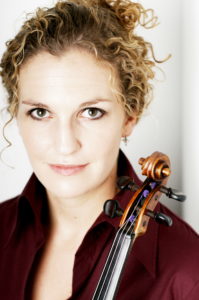 Ruth Rogers
director
---
Born in London in 1979, Ruth Rogers began violin lessons at the age of five. In 1997 she was awarded a Foundation Scholarship to the Royal College of Music to study with Itzhak Rashkovsky, where she won many major prizes and awards. Ruth graduated in 2001 with First Class Honours and was awarded the Tagore Gold medal – the College's highest accolade – by HRH The Prince of Wales. Further study followed in the Netherlands with Herman Krebbers.
As a soloist, Ruth's playing has been described as "not calculated in any sense, her performance style and technique so assured that the music flows as a natural consequence of innermost understanding. Ruth Rogers must be one of the most gifted young violinists in Britain." (Musical Opinion.) Winner of the prestigious Manoug Parikian Award and chosen as a 2004 Young Artist by the Tillett Trust, Ruth also reached the Finals of the YCAT competition, Royal Overseas League, and the BBC Radio 2 Young Musician of the Year. She gave her London debut recitals at the Wigmore Hall and the Purcell Room in 2003 and has also appeared as a soloist at the Royal Albert Hall, St John's Smith Square and many other venues.
From 2008 until 2012 Ruth was the co-leader of the Bournemouth Symphony Orchestra. Ruth also performs with the John Wilson Orchestra. In March 2015 Ruth was appointed as one of the Leaders of the London Mozart Players. She regularly guest leads the Scottish Chamber Orchestra, City of Birmingham Symphony Orchestra, BBC Philharmonic Orchestra, Royal Scottish National Orchestra and Aurora Chamber Orchestra and has appeared in principal roles with the Hallé, Philharmonia and RLPO. She has led orchestras under the batons of such maestros as Lorin Maazel, Daniele Gatti, Sir Colin Davis and Sakari Oramo, and has performed concertos with the City of London Sinfonia, City of Oxford Orchestra, London Strings, and New London Soloists Orchestra.
As chamber musician, Ruth has performed at the Aldeburgh and Bath Festivals with the Tate Ensemble and with pianist John Lill in Shostakovich's piano quintet. She is a member of the Iuventus String Quartet and the Aquinas Piano Trio and has appeared at the Wigmore Hall with the Nash Ensemble. In February 2009 Ruth reached the final of an International Duo Competition with Martin Cousin – the Franz Schubert and Modern Music International Competition which took place in Graz, Austria. They were one of five duos in the final, chosen from thirty-seven participating duos.
Ruth was chosen personally by Lorin Maazel to perform with the tenor Andrea Bocelli in a series of concerts, which has led to television and radio broadcasts and further concerts worldwide at such venues as the Pyramids in Cairo, the Acropolis in Athens, and the Piazza del Campo in Siena. They performed together at the Royal Albert Hall with the English Chamber Orchestra for the Classical Brit Awards. Ruth has given recitals at the Brighton, Buxton, Harrogate and Warwick Festivals thanks to the Tillett Trust. She has given recitals with Martin Cousin in Indonesia and Thailand.
In 2006 Ruth played to orphans, refugees, malaria patients and land-mine victims on the Thai-Burma border and in 2008 she went back there again with the Iuventus Quartet. In February 2006, Ruth's debut recital CD was released. Recorded with pianist Sarah Nicolls, it features works by Handel, Elgar, Ginastera, Massenet, Fauré, Kreisler and Kroll. The CDs are £10 each and you can order copies by emailing info@ruthrogers.net with your name, address, telephone number, and the number of copies requested. Proceeds from the CD sales will go to help those in need on the Thailand-Burma border. Ruth has also recorded Piazzolla's 'History of the Tango' with guitarist Morgan Szymanski, and released several discs as a member of the Aquinas Piano Trio.