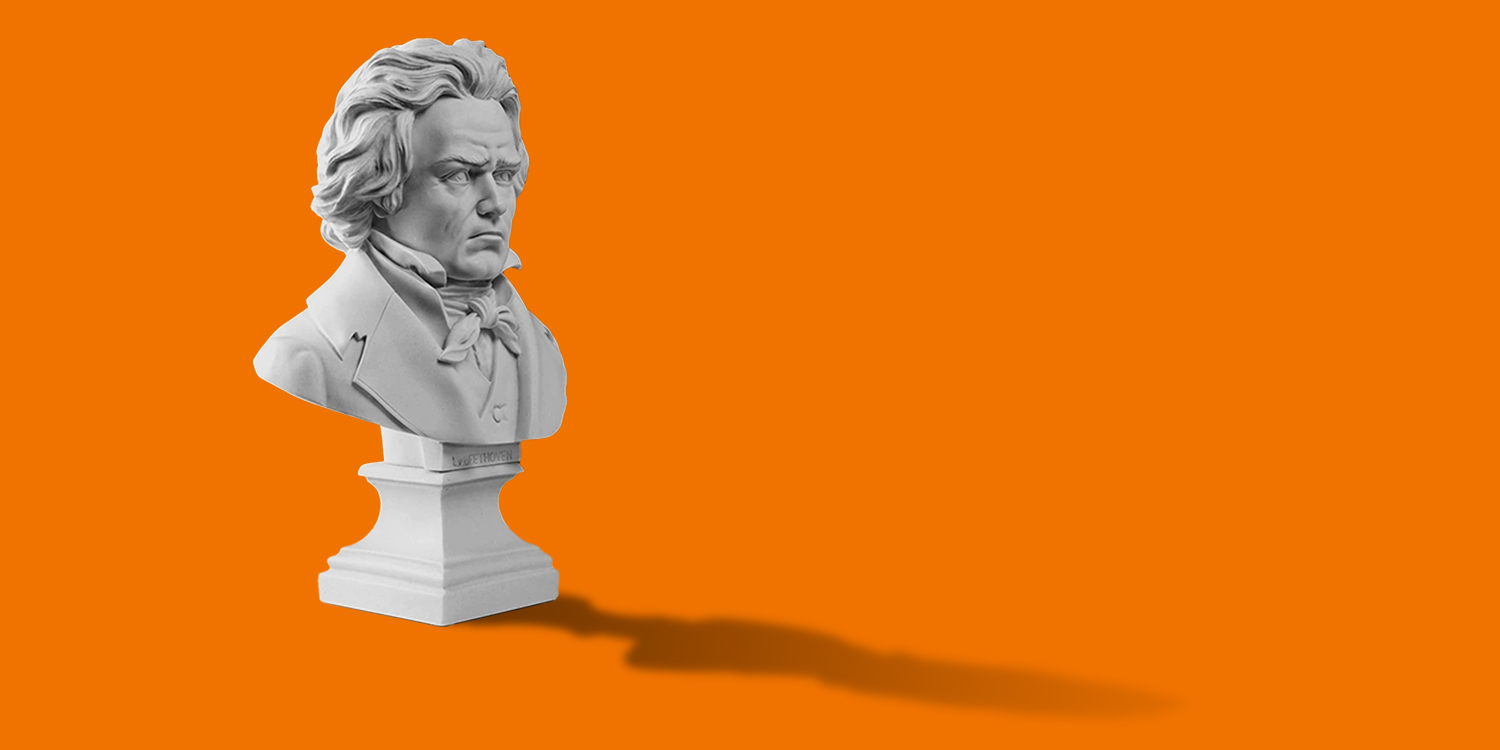 Beethoven's only violin concerto with our Young Artist-in-Residence, Leia Zhu
Jessie Montgomery Strum for strings

Strum for string orchestra (2006, rev. 2012)
commissioned by Community MusicWorks; revision by the Sphinx Organization
Strum is the culminating result of several versions of a string quintet I wrote in 2006. It was originally written for the Providence String Quartet and guests of Community MusicWorks Players, then arranged for string quartet in 2008 with several small revisions. In 2012 the piece underwent its final revisions with a rewrite of both the introduction and the ending for the Catalyst Quartet in a performance celebrating the 15th annual Sphinx Competition.
Originally conceived for the formation of a cello quintet, the voicing is often spread wide over the ensemble, giving the music an expansive quality of sound. Within Strum I utilized texture motives, layers of rhythmic or harmonic ostinati that string together to form a bed of sound for melodies to weave in and out. The strumming pizzicato serves as a texture motive and the primary driving rhythmic underpinning of the piece. Drawing on American folk idioms and the spirit of dance and movement, the piece has a kind of narrative that begins with fleeting nostalgia and transforms into ecstatic celebration.
© Jessie Montgomery
Coleridge-Taylor (arr. George Morton) 4 African Dances
Samuel Coleridge-Taylor (1875-1912) was born in London, the product of a mixed race marriage, his father, a doctor, being an African from Sierra Leone and his mother a white Englishwoman. His father returned to Africa when he was a small boy and he was brought up by his mother in Croydon. His musical talent showed itself early and he was admitted to study the violin at the Royal College of Music where he eventually concentrated on composition when his gifts were ascertained. His teacher was the renowned composer, Sir Charles Villiers Stanford. He and his compositions gained considerable fame during his lifetime. His oratorio Hiawatha's Wedding Feast for a time became as popular as Handel's Messiah and Mendelssohn's Elijah. He made several visits to the United States because of his interest in American Negro cultural life. His fame was such that on one visit he was invited to the White House by Theodore Roosevelt.
The Four African Dances were composed in 1904 for his friend the violinist John Saunders, with whom he often performed. The Dances were clearly intended as a vehicle for the violin and exploit both its lyrical and virtuosic qualities. Surprisingly, the music does not sound at all African but rather is written in the traditional tonal and melodic language of the late Romantic era. However, Coleridge-Taylor did note, without giving any specifics, in the manuscript that the second dance was based on a traditional African folk melody.
© Edition Silvertrust
Mozart Symphony No. 31, 'Paris'
WOLFGANG AMADEUS MOZART (1756-1791)
Symphony No. 31 in D, K297 Paris
I           Allegro assai
II          Andante
III         Allegro
In March 1778 Mozart visited Paris for the third time in his life. On his arrival he found that he was no longer received with open arms. The reason was that he had evidently ceased to be the delightful infant prodigy of the past. He began to despise the Parisians who had formerly adored him, and he was shocked by the futile quarrels between the supporters of the two composers Gluck and Puccini. Having visited Mannheim on his way to Paris, where he had heard the excellent resident orchestra, he found the standard of musicianship in Paris deplorable. More serious was the fact that his former patrons had lost interest in him, and that his hopes of securing a permanent employment in the city were unfounded. But the worst blow was that his mother, who had always been a great comfort to him, was no longer able to give him the support he needed. She fell ill soon after his arrival in Paris and died there on 3 July 1778.
Mozart made desperate efforts to overcome these adversities, though Baron Grimm, who had been his principal protector in the past, did not think so: "He is too naïve, too inactive, too easily taken in, too little concerned with working for the future," he wrote to Leopold Mozart, Wolfgang's father.
How wrong Grimm was (at least as regards Mozart's efforts to achieve success) was proved by the music of the Paris Symphony. The work was deliberately conceived to have the elegant style and the kind of brilliance which were all the rage in Paris at the time. The Allegro movements were, in fact, very well received at the first performance on 12 June 1778, but the gentle Andante (originally Andantino) was not appreciated. In order to show how eager he was to please, Mozart composed another Andante for a performance of the same work two months later. He could not have done more. The original Andante is played in this concert.
© Stefan de Haan
Beethoven Violin Concerto

LUDWIG VAN BEETHOVEN (1770-1827)
Violin Concerto in D major, Op. 61
I           Allegro ma non troppo
II          Larghetto
III         Rondo: allegro
Beethoven wrote his Violin Concerto in 1806, and a year later arranged it for piano and orchestra, following a commission from Franz Clement, Director and First Violin of the Theater an der Wien. However, the relationship between Clement and Beethoven was not a happy one, particularly when the violinist chose to insert his own virtuosic showpieces between the movements of Beethoven's work at its first performance!
This concerto is one of Beethoven's most serene works, written at a time of relative personal happiness for its composer. Beethoven's relationships with his friends, both male and female, were always tempestuous, but at this time he was in love with Therese von Brunswick, a young widow, and he felt that he might at last have found someone he could marry and live with happily (in the event it did not come to this).
The work is scored for a classical orchestra, including trumpets and timpani, but no trombones and only one flute. It is the timpani that opens the first movement, with five quiet notes – a rhythmic pattern that is to assume increasing importance throughout the movement. They herald a lovely melody that sets the tone for the whole of this expansive Allegro ma non troppo – lasting nearly 30 minutes. Another featured instrument in the orchestra is the bassoon (one of Beethoven's favourites), which has a lovely duet with the soloist in the final section of this movement.
The Larghetto middle movement is also predominantly gentle in atmosphere, with some notable writing for the woodwind in duet with the soloist. The movement takes the form of a theme with variations, in either G minor or major – significantly, Beethoven chooses the key of G rather than the more obvious A for this movement, preferring the darker colours this gives to the orchestral sound. After two such movements the finale necessarily provides much contrast, being a rumbustuous dance with a rustic feel, bringing to mind the Pastoral Symphony that Beethoven completed a year later in 1808. The first bassoon again has a prominent role, and the orchestra and soloist end up as near equals – although the soloist always retains the more joyous ornamentation in its melodic writing.
© Ian Lush
Violin 1
Simon Blendis
Nicoline Kraamwinkel
Ann Criscuolo
Martin Smith
Anna de Bruin
Harriet Haynes
Violin 2
Antonia Kesel
Gemma Sharples
Jessica Coleman
Jeremy Metcalfe
Suzanne Loze
Viola
Sophie Renshaw
George White
Christopher Pitsillides
Christopher Beckett
Cello
Sebastian Comberti
Sarah Butcher
Ben Rogerson

Double Bass
Catherine Elliott
Lucy Shaw

Flute
Dan Shao
Emilia Zakrzewska

Oboe
Gareth Hulse
Katie Clemmow
Clarinet
Nicholas Carpenter
Lewis Graham
Bassoon
John McDougall
Emma Harding
Horn
Andrew Budden
Martin Grainger
Trumpet
Alan Thomas
Peter Wright
Timpani
Benedict Hoffnung
Chief Executive Flynn Le Brocq
Concerts
Concerts & Orchestra Manager Sam Every
Orchestra Fixer Liam Kirkman
Librarian Alex Mackinder
Producer (London Borough of Culture) Sophie Branscombe
Development
Business Development Manager Ceri Sunu
Fundraising & Operations Peter Wright
Fundraising Consultant Paul Hudson
Partnerships Director Trudy Wright
Marketing
Senior Marketing & PR Manager Anna Bennett
Digital Marketing Manager Charles Lewis
Marketing & Events Coordinator Jessica Peng
Finance
Bookkeeper Debbie Charles
Leader sponsored by Debbie Beckerman & Keith Jones
Leader sponsored by Anonymous
Co Leader sponsorship vacant
First Violin 3 sponsored by Liz and Alistair Milliken
First Violin 4 sponsored by John and Rosalind Crosby
First Violin 5 sponsored by Christine Robson
First Violin 6 sponsored by Della Brotherston
First Violin 7 sponsorship vacant
First Violin 8 sponsorship vacant
Principal Second Violin sponsored by Geoffrey Shaw
Second Violin 2 sponsored by The Angel Family
Second Violin 3 sponsored by Keith Ball
Second Violin 4 sponsored by Alastair Fraser
Second Violin 5 sponsorship vacant
Second Violin 6 sponsored by Catherine Shaw
Principal Viola sponsored by Mark and Vanessa Petterson
Co Principal Viola sponsored by Raymond Calcraft
Viola 3 sponsored by Gill Cox
Viola 4 sponsored by Stuart & Joyce Aston
Principal Cello sponsored by Anonymous
Co Principal Cello sponsored by Jeffrey and Sophie Prett
Cello 3 sponsored by Gillian Noble
Cello 4 sponsored by Richard Morgan
Cello 5 sponsored by Colin and Helen Snart
Principal Double Bass sponsored by John Clarke
Co Principal Double Bass sponsored by The Bristow Family
Principal Flute sponsorship vacant
Sub Principal Flute sponsored vacant
Principal Oboe sponsored by Pat Sandry
Co Principal Oboe sponsored by Sean Rourke
Sub Principal Oboe sponsored by Geoffrey & Joy Lawrence
Principal Clarinet sponsored by Derek and Deirdre Lea
Sub Principal Clarinet sponsored by Graham Harman
Principal Bassoon sponsored by Sandra and Anthony Linger
Sub Principal Bassoon sponsored by Barbara Tower
Principal Horn sponsored by Chris Harman
Sub Principal Horn sponsored by Julia James
Principal Trumpet sponsored by Ishani Bhoola
Sub Principal Trumpet sponsored by Cynthia Harrod-Eagles
Principal Trombone sponsorship vacant
Sub Principal Trombone sponsorship vacant
Principal Timpani sponsored by Cynthia Harrod-Eagles
Principal Percussion sponsorship vacant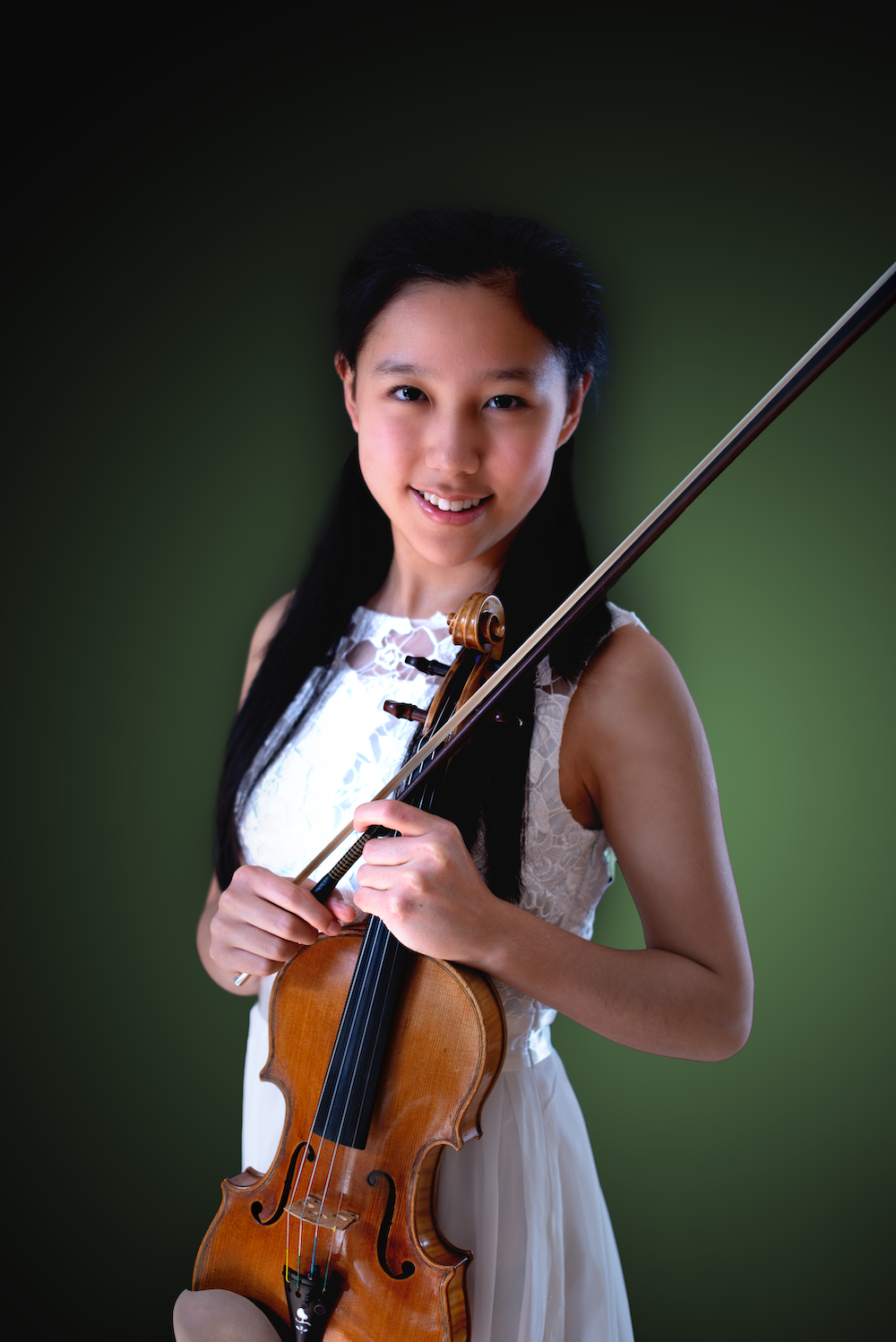 Lauded for her musical maturity, expressive interpretations and impressive technical ability, 16 year-old British violinist Leia Zhu is recognised as a star of the future. A student of renowned Ukrainian-Israeli violinist and pedagogue Itzhak Rashkovsky, since her debut at age four she has performed at prestigious festivals and venues in more than 15 countries around the world, and with numerous established orchestras and international artists.
Appointed Artist-in-Residence with the London Mozart Players in October 2021, she embeds herself within the orchestra, performing as featured soloist, leading play/​direct programmes and in chamber music, while also playing a crucial role in the orchestra's community residencies in Croydon and Hastings, inspiring and motivating her peers through educational projects.
2022/23 season highlights include a series of debuts in Europe, with Tonhalle-Orchester Zürich and Paavo Järvi, Sinfonieorchester Wuppertal and Patrick Hahn, Festival Internacional de Música de Marvão with Christoph Poppen, and in the UK, with London Philharmonic Orchestra, Oxford Philharmonic Orchestra and Bath Philharmonia. She also returns to Festival Strings Lucerne, and Tel Aviv Soloists for a 4‑city tour of Israel, while appearing in recital in the UK, in Oxford, Salisbury and Newcastle.
In August 2021, Zhu debuted at age 14 with London Symphony Orchestra and Sir Simon Rattle, as part of the orchestra's annual BMW Classics concert in London's Trafalgar Square, and later that following season with Lucerner Sinfonieorchester, as well as in recital at Tonhalle Zürich, Menuhin Festival Gstaad and St. Martin-in-the-Fields in London.
In May 2022, at age 15 she became a Patron of The HarrisonParrott Foundation with a focus on expanding interest in classical music for all generations. In July of the same year, Leia Zhu is the youngest musician, after pianist Bruce Liu, 25, and conductor Klaus Mäkelä, 26, to be included on the list of 30 brilliant young musicians all under the age of 30 by Classic FM for its 30th birthday special edition.
Zhu performs in major concert venues across Europe, such as Royal Festival Hall, Cadogan Hall, Barbican Centre and Milton Court in London, BOZAR in Brussels, Mozarteum Grosser Saal in Salzburg, KKL in Lucerne, Berliner Philharmonie, Moscow's Tchaikovsky Concert Hall and The Mariinsky Theatre in St Petersburg.
Leslie Suganandarajah
conductor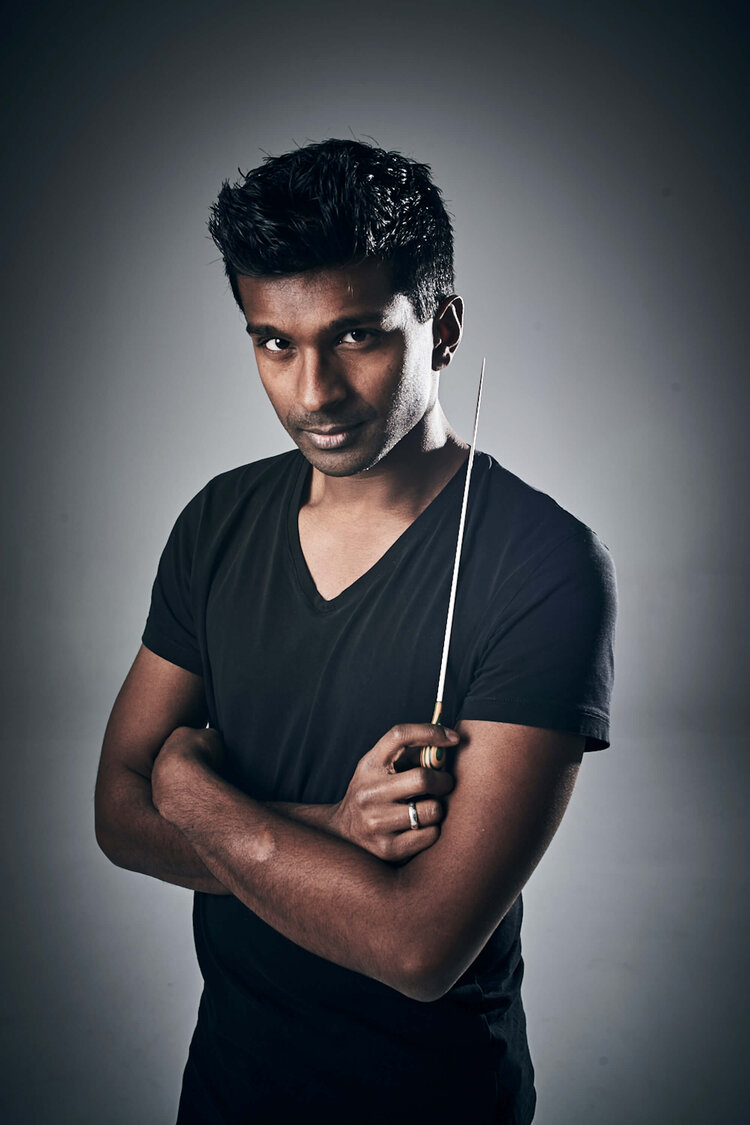 Music Director of the Salzburg Landestheater, Leslie Suganandarajah took up the helm in 2019-20 with a new production of Lohengrin at the Festspielhaus. In the current season his productions include Macbeth, Ariadne and Peter Eötvös Angels in America.
Suganandarajah studied conducting at the Musikhochschule Franz Liszt in Weimar and was accepted onto the Deutsche Dirigentenforum in 2011. After being awarded the Hermann-Hildebrandt Scholarship for young conductors he was appointed Assistant Conductor to Michael Sanderling and the Dresden Philharmonic Orchestra for the 2014/15 season.
Current guest conducting highlights include the Berlin Konzerthausorchester, BBC Philharmonic Orchestra, MDR Sinfonieorchester, WDR Funkhaus Orchester, London Mozart Players and Opera North. He made his UK debut conducting Chineke! at the South Bank Centre earlier this season and was immediately invited to join them on their European tour in autumn 2023. Other guest conducting engagements have included the Sinfonieorchester Wuppertal, Brucknerorchester Linz, Jenaer Philharmonie, Sinfonieorchester Vorarlberg and the Nordwestdeutsche Philharmonie. He has a flair for classical and romantic repertoire especially Schubert, Mendelssohn, Beethoven, Bruckner, Brahms and Strauss.
Following five years at the Theater Koblenz (1st Kapellmeister in 2015/16), he moved to Linz to take up the position of Kapellmeister at the Landestheater Linz (2017-2020). In 2018 he made his debut at the Landestheater Salzburg conducting Prokofiev Cinderella after which he was appointed Music Director from the 2019/20 season.
Suganandarajah is an experienced opera conductor and his productions include Carmen, Figaro, Elektra, The Rake's Progress, Rape of Lucretia, Rigoletto, Otello, Il Trovatore, Othmar Schoeck Penthesilea, Fidelio, Tosca, Lohengrin and Parsifal.
Born in Colombuthurai, Sri Lanka in 1983, his family fled the civil war and moved to Germany when he was two years old. Under the care of a German family supporting refugees, he began music lessons and developed a passion for piano, flute and organ. He studied at the Hochschule für Musik und Theater in Hannover and at the Musikhochschule in Lübeck.