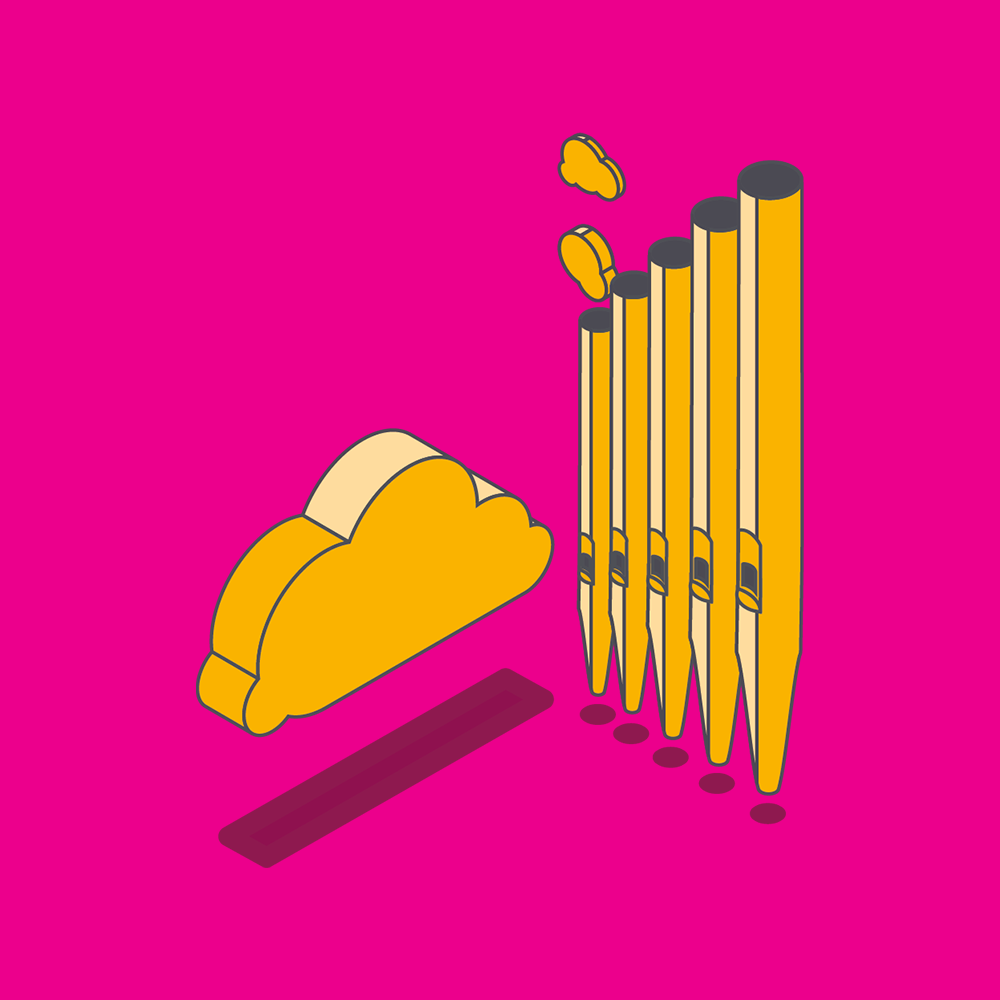 The organ as you've never seen it before as Anna Lapwood takes her camera down the pipes
Mad Rush was originally an organ piece composed in 1979 as Fourth Series, Part Four. Commissioned by \ Radio, the Holland Festival and the Festival de Saint-Denis, it was renamed when adapted by Lucinda Childs for her dance company. The piece was performed by the composer on several occasions, including the first public appearance of the fourteenth Dalai Lama in New York City in the autumn of 1981—when the work was reshaped into an "open form" to accompany the distinguished visitor's entrance into the Cathedral of St. John the Divine.
In its first recording (the accompaniment to Lucinda Childs' choreography released in 2006 on Analog by Philip Glass—OMM0029), the music was presented in a post-modernistic, non-narrative and undramatic manner, thus giving the impression of a basic organisation that contrasts tranquil passages with fierce ones. But, in 1970s interviews, Philip Glass explained his way of organising musical structures by putting scores on the floor in order to fit specific shapes. Surprisingly, if we listen to the composer's most recent versions, Mad Rush seems to have been enlightened by his long and rich concert experience. Philip Glass' musical development through his live performances reveals four distinguishable sections, encompassing a tripartite architecture that almost sounds like a hidden sonata form.
It opens with a peaceful presentation of three sections. The first is an intimate prelude of broken thirds in a polyrhythm of two against three, creating a calm and peaceful atmosphere; next, a tempestuous ocean is rendered by relentless, fast, contrary motion arpeggios; as the sea calms down, a fusion of the two previous parts—the calm broken thirds in the bass and the double-time arpeggios in the upper register—gives the mesmerising impression of contemplating the glittering surface of the sea. Then sections one, two and three (followed by a fourth) are performed in a more tumultuous way. This quasi arch-form development could embody the sorrow and despair of people lost in the tumult of life. It dissolves into a serene but sad return of sections one and two. And, as the moon slowly vanishes on a lake surface, the fourth and last section appears like a coda in which a melancholic line floats over the final repetitions of the bass line and fades into oblivion.
Mad Rush is one of those keystone works that carries within it the seeds of Glass' future achievements. The first part will be developed in the famous Opening From Glassworks, the second part in Koyaanisqatsi – Vessels, the third in the sixth movement of String Quartet No. 3 (Mishima), and the fourth in Metamorphosis Two.
— Nicolas Horvath
Adapted by Frank K. DeWald
Britten Young Person's Guide to the Orchestra

BENJAMIN BRITTEN (1913-1976)
The Young Person's Guide to the Orchestra, Op 34
Britten originally composed this work for the film The Instruments of the Orchestra. Eric Crozier wrote the amusing commentary which is often omitted in performances, though fortunately not in our concert. The Young Person's Guide also has a second title: Variations and Fugue on a Theme of Purcel". The theme is taken from Purcell's incidental music for the stage, and Purcell himself used it again, also with variations, in a suite for harpsichord.
This theme is first introduced by the whole orchestra and then, in turn, by the woodwind, brass, strings and percussion. The entire orchestra plays the theme once more and then the actual variations begin, starting from the top line of the printed score (flutes and piccolo), through the woodwind to the strings, right down to the double basses. Harp, brass and percussion follow with equally ingeniously conceived variations, demonstrating the characteristic qualities of each instrument. The orchestra which thus has been 'taken to pieces' is then reassembled in a fugue, started by the piccolo. 'In the end', the commentary says, 'the brass play Henry Purcell's fine melody, while the others go on playing Benjamin Britten's fugue'.
Saint-Saëns Symphony No. 3, 'Organ'

Camille Saint-Saëns lived a long life, and was remarkable for his wide-ranging intellectual interests and abilities. As a child he was, of course, a precocious musical talent, but even then he evinced a strong natural interest in almost every academic subject–including, but certainly not restricted to, astronomy, archaeology, mathematics, religion, Latin, and Greek. In addition to a life of musical composition and virtuoso keyboard performance, he also enjoyed success as a music journalist, champion of early music (Handel and Bach), and leadership in encouraging French musical tradition. His father died when he was an infant, and he grew into middle age extraordinarily devoted to his mother–his marriage at the age of forty to a nineteen-year old did not last long. He simply left the house one day in 1881 and chose never to see her again; she died in 1950 at the age of ninety-five. Saint-Saëns went on to live an active life, filling an important rôle in the musical life of France–as performer, composer, author, spokesman, and scholar. He was peripatetic–researching Handel manuscripts in London, conducting concerts in Chicago and Philadelphia, visiting Uruguay and writing a hymn for their national holiday, and vacationing in the Canary Islands. He celebrated seventy-five years of concertizing in August of 1921 in his eighty-sixth year, and died a few months later.
Perhaps his most well-known and successful work is his opera, Samson et Dalila, one of a dozen. However, other works vie for that honor, for he was a most prolific composer, working in almost every genre common at that time. Despite this versatility he perhaps did his best work in the traditional Classical models–symphonies, concertos, chamber music, and sonatas. Symphony No. 3 (1886), the so-called "organ" symphony, was his last symphony, but only one of a large number of works for orchestra. He composed symphonic poems, suites, concertos, marches, and dances–dozens of them. Calling for a large orchestra, including two pianos and a large organ, Symphony No. 3 is heard as two large movements, but really is in four, with the first two and last two movements connected and heard respectively as one. One will clearly hear in this work two of Saint-Saëns' trademarks: a repetitive rhythm that dominates a movement, and his gift for lovely, sensuous melody.  He was a gifted melodist, and compared his talent with the natural fecundity of a fruit tree. This you will hear in the lush second movement (second half of the first continuous section). The initial entry of the organ often surprises folks, so be prepared. The spectacular sonic combination of the fortissimo organ and the percussive pianos juxtaposed on the large orchestra is particularly felicitous, and is a triumph of Romantic orchestral imagination (Richard Strauss wasn't the only game in town in this regard). All in all, this symphony is characteristic of much of Saint-Saëns' work: not necessarily profound, but crafted with great skill, innate musicianship, and typically Gallic in its clarity of expression and form. And, it must be said–almost always immensely appealing.
–Wm. Runyan
© 2015 William E. Runyan
Violin 1
Simon Blendis
Sijie Chen
Nicoline Kraamwinkel
Anna de Bruin
Lucy Waterhouse
Raja Halder
Ed McCullagh
Esther King Smith
Violin 2
Antonia Kesel
Gemma Sharples
Clare Hayes
Jessica Coleman
Jayne Spencer
Rosemary Henbest

Viola
Judith Busbridge
George White
Joe Ichinose
Christopher Pitsillides
Christopher Beckett

Cello
Leo Popplewell
Sarah Butcher
Ben Chappell
Abigail Hyde-Smith

Double Bass
Benjamin Russell
Alice Kent

Flute
Julian Sperry
Alyson Frazier
Nicolas Bricht (piccolo)
Oboe
Alun Darbyshire
Jennifer Brittlebank
Rachel Harwood-White (cor anglais)
Clarinet
Andrew Webster
Anthony Bailey
Lewis Graham (bass clarinet)
Bassoon
Meyrick Alexander
Emma Harding
Claire Webster (contrabassoon)
Horn
Andrew Budden
Tim Caister
Martin Grainger
Jason Koczur
Trumpet
James Nash
Peter Wright
Simon Gabriel
Trombone
Andrew Cole
Jeremy Gough
Ian Fasham
Tuba
Martin Knowles
Timpani
Benedict Hoffnung
Percussion
Scott Bywater
Rachel Gledhill
Glyn Matthews
Lewis Blee
Richard Cartlidge
waiting
Piano
Dominic Doutney
Fionnuala Ward
Harp
Rosanna Rolton
Chief Executive Flynn Le Brocq
Concerts
Artistic Projects Manager Sophie Haynes
Concerts & Orchestra Manager Simon Nicholls
Orchestra Fixer Liam Kirkman
Librarian Alex Mackinder
Development
Business Development Manager Ceri Sunu
Fundraising & Operations Director Peter Wright
Fundraising Consultant Paul Hudson
Partnerships Director Trudy Wright
Marketing
Senior Marketing & PR Manager Anna Bennett
Digital Marketing Manager Charles Lewis
Marketing & Events Coordinator Jessica Peng
Finance
Bookkeeper Debbie Charles
Leader sponsored by Debbie Beckerman & Keith Jones
Leader sponsored by Anonymous
Co Leader sponsorship vacant
First Violin 3 sponsored by Liz and Alistair Milliken
First Violin 4 sponsored by John and Rosalind Crosby
First Violin 5 sponsored by Christine Robson
First Violin 6 sponsored by Della Brotherston
First Violin 7 sponsorship vacant
First Violin 8 sponsorship vacant
Principal Second Violin sponsored by Geoffrey Shaw
Second Violin 2 sponsored by The Angel Family
Second Violin 3 sponsored by Keith Ball
Second Violin 4 sponsored by Alastair Fraser
Second Violin 5 sponsorship vacant
Second Violin 6 sponsored by Catherine Shaw
Principal Viola sponsored by Mark and Vanessa Petterson
Co Principal Viola sponsored by Raymond Calcraft
Viola 3 sponsored by Gill Cox
Viola 4 sponsored by Stuart & Joyce Aston
Principal Cello sponsored by Anonymous
Co Principal Cello sponsored by Jeffrey and Sophie Prett
Cello 3 sponsored by Gillian Noble
Cello 4 sponsored by Richard Morgan
Cello 5 sponsored by Colin and Helen Snart
Principal Double Bass sponsored by John Clarke
Co Principal Double Bass sponsored by The Bristow Family
Principal Flute sponsorship vacant
Sub Principal Flute sponsored vacant
Principal Oboe sponsored by Pat Sandry
Co Principal Oboe sponsored by Sean Rourke
Sub Principal Oboe sponsored by Geoffrey & Joy Lawrence
Principal Clarinet sponsored by Derek and Deirdre Lea
Sub Principal Clarinet sponsored by Graham Harman
Principal Bassoon sponsored by Sandra and Anthony Linger
Sub Principal Bassoon sponsored by Barbara Tower
Principal Horn sponsored by Chris Harman
Sub Principal Horn sponsored by Julia James
Principal Trumpet sponsored by Ishani Bhoola
Sub Principal Trumpet sponsored by Cynthia Harrod-Eagles
Principal Trombone sponsorship vacant
Sub Principal Trombone sponsorship vacant
Principal Timpani sponsored by Cynthia Harrod-Eagles
Principal Percussion sponsorship vacant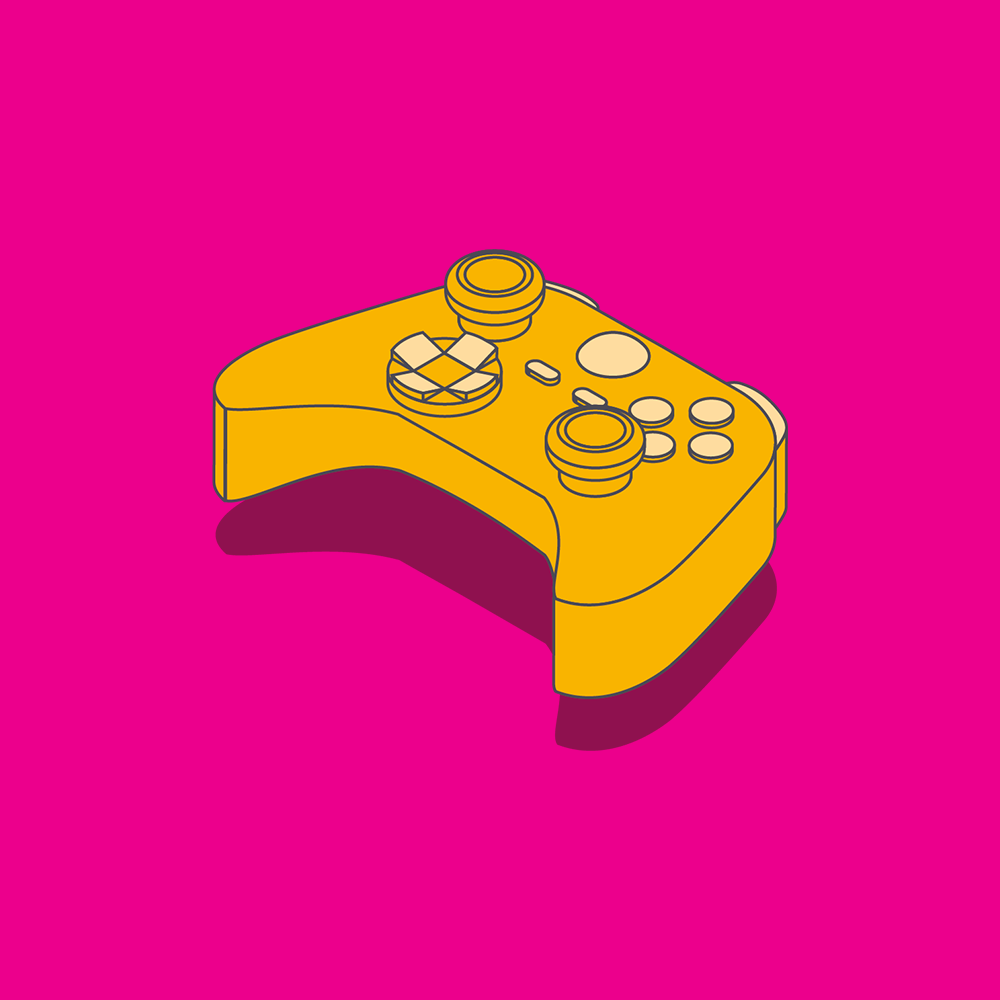 Little Orpheus
24 June 2023
Fairfield Halls
The live premiere of the award-winning gaming soundtrack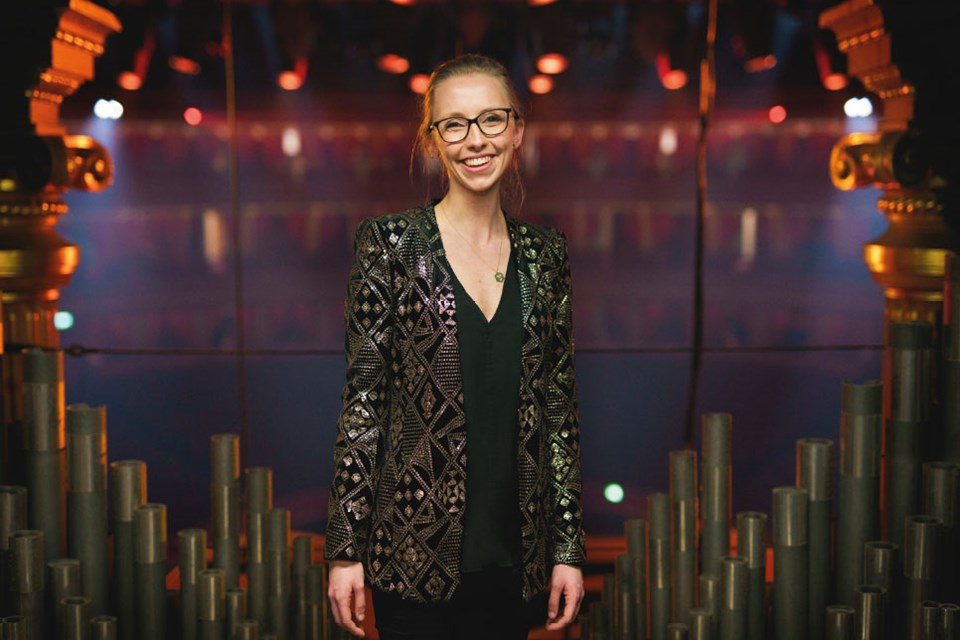 Anna Lapwood is an organist, conductor and broadcaster, and holds the position of Director of Music at Pembroke College (Cambridge) and Associate Artist of the Royal Albert Hall (London). In 2023 she was awarded the prestigious 'Gamechanger' Award from the Royal Philharmonic Society, and she is signed to SONY Classical as an exclusive recording artist. A strong advocate for music education at home and abroad, Anna works hard to bring music to children of all backgrounds. Her commitment to equality and diversity is evident in almost every aspect of her life and work, and new music that she has commissioned features in her recitals across Europe and North America. She plays concertos with some of the world's greatest orchestras and is a regular broadcaster on both radio and television. Anna is a terrific protagonist for her instrument, the organ. She is a natural communicator and reaches a huge audience through her concerts and via social media with well over a million followers across all platforms.
Anna Duczmal-Mróz
conductor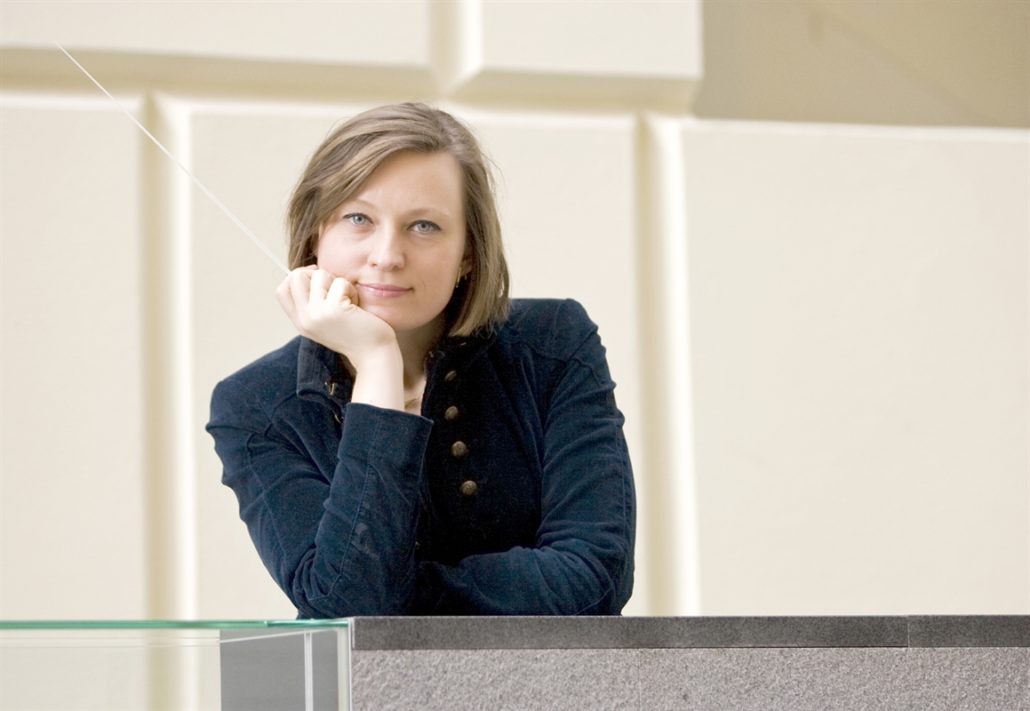 Anna Duczmal-Mróz is a daughter of a world famous conductor Agnieszka Duczmal.
Anna started her music education as a violinist. Her conducting talent was discovered during the student orchestra rehearsal at the Hochschule für Musik und Theater in Hannover, where she was studying violin with Prof. Krzysztof Wegrzyn. The conductor of the orchestra, Eiji Oue, suggested that orchestra members volunteer to take his place at the podium and conduct the orchestra. As a result of this experiment-"competition", Anna was invited by Maestro Oue to study conducting with him (2001-2004). In June 2004 she graduated with honors and conducted NDR Radiophilharmonie Hannover on her diploma concert.
In 2000 she founded a student orchestra-Benjamin Britten Kammerorchester in Hannover with which she was giving concerts in Germany. Her interpretation of Stravinsky's Soldier's Tale was so successful that the organizers repeated this concert a few months later.
In 2003 since her Polish debut with Amadeus Chamber Orchestra of Polish Radio she is regulary recording and conducting concerts with this orchestra.
In 2004/2005 season she was an assistant conductor to Eiji Oue at NDR-Radiophilharmonie.
In January 2006 to June 2007 after the competition for the assistant position she was an assistant conductor to Antoni Wit at Warsaw National Philharmonic.
Anna Duczmal-Mróz repeatedly led concerts with orchestras in Germany, Italy, Belgium, Austria, France, Spain, South America, and has worked with all the major orchestras in Poland, including Warsaw National Philharmonic, Sinfonia Varsovia, NOSPR. Anna has performed in great concert halls such as the Wiener Konzerthaus Mozart Hall and the Palais des Beaux -Arts in Brussels and at many major festivals in Poland, Germany and South America.
Since 2009, Anna is the second conductor of the Amadeus Chamber Orchestra of Polish Radio with which she regularly performs and recording Polish music, which can be found on many CD albums. Her concerts have been broadcast by Polish Radio and Nord Deutsche Rundfunk. Cooperation with Capella Bydgostiensis resulted in burning the cd for DUX – " Best of the twentieth century " under the auspices of the Krzysztof Penderecki European Centre for Music.
Since 2009 she give masterclasses together with the Torun Symphony Orchestra and the great pianists such as Ilya Scheps, Robert McDonald, Andrzej Jasinski in Paderewski Piano Academy.
In 2014 Anna Duczmal-Mróz gave conducting masterclasses and concerts in South America.
In 2015 Dux and CPO released two discs with Anna-Music by Sebastian Krajewski and Symphony no 10 by M.Weinberg. Both together with Amadeus Chamber Orchestra of Polish Radio. In 2016 disc with M.Weinberg's 10th Symphony was nominated for the most important Polish awards – Fryderyki.
Anna Duczmal-Mróz is a multiple holder of scholarships of Ministry of Culture and Fine Arts.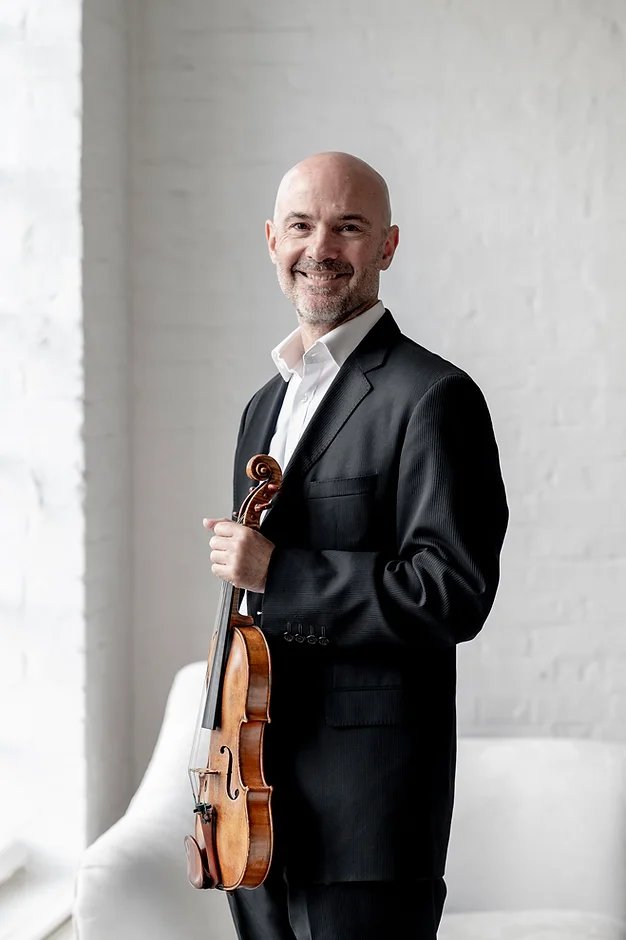 Simon Blendis enjoys an international career as a chamber musician, concertmaster and soloist.
He was the violinist with the Schubert Ensemble from 1995-2018, when the Ensemble retired after a celebrated 35 year career.
With the Ensemble, Simon performed in over thirty different countries, recorded over twenty CDs of music ranging from Brahms to Judith Weir, made frequent broadcasts for BBC Radio 3 and appeared regularly at Europe's major venues such as the Wigmore Hall in London and the Concertgebouw in Amsterdam. In 1999 the group won the prestigious Royal Philharmonic Society Award for best chamber group, for which it was shortlisted again in 2010.
The Ensemble left behind a significant legacy including 50 commissions and a major library of filmed performances on its YouTube channel, details of which can be found at www.schubertensemble.com
Alongside his work in the Ensemble, Simon has shared the position of First Concertmaster with Orchestra Ensemble Kanazawa in Japan since 1999, and in 2014 was appointed Concertmaster of the London Mozart Players, the UK's oldest chamber orchestra. In addition to leading the orchestra, he regularly directs from the violin, and performs as soloist and with the LMP Chamber Ensemble.
Simon is also in demand as a guest concertmaster: he has appeared with most of the UK's major orchestras, including all of the London orchestras, as well as with several orchestras abroad, including the Orquesta Nacional de Espana and the Mahler Chamber Orchestra. He has appeared as a guest-director with the Academy of St. Martin in the Fields, the Scottish Ensemble and the English Chamber Orchestra.
A keen exponent of new music, Simon has given over 50 first performances, and has had new pieces written for him by, amongst others, Tansy Davies, Stuart Macrae, John Woolrich and jazz legend Dave Brubeck. He has premiered new violin concertos written for him by David Knotts (2013) and Jeff Moore (2017).
As a soloist he has performed and recorded with the Philharmonia Orchestra, Royal Philharmonic Orchestra, English Chamber Orchestra, Academy of St. Martin-in-the-Fields, Bournemouth Symphony Orchestra and the BCMG in the UK and with Orchestra Ensemble Kanazawa in Japan, with whom he has recorded Vivaldi's Four Seasons for the Warner Japan label. 
During the recent Coronavirus lockdowns Simon undertook a research project into the salon music legacy of legendary light music violinist, Max Jaffa, and the resulting CD will be released in July 2022. 
Simon is increasingly sought after as a teacher, and is a Professor of Violin at the Guildhall School of Music and Drama.
London Mozart Players
Fairfield Halls
Park Lane
Croydon
CR9 1DG
Registered No: 8882717
Registered Charity No. 290833
020 8686 1996
info@lmp.org