'Peace & Harmony' A cross-cultural collaboration with Subrang Arts
Saturday 25 April, 7pm
Fairfield Halls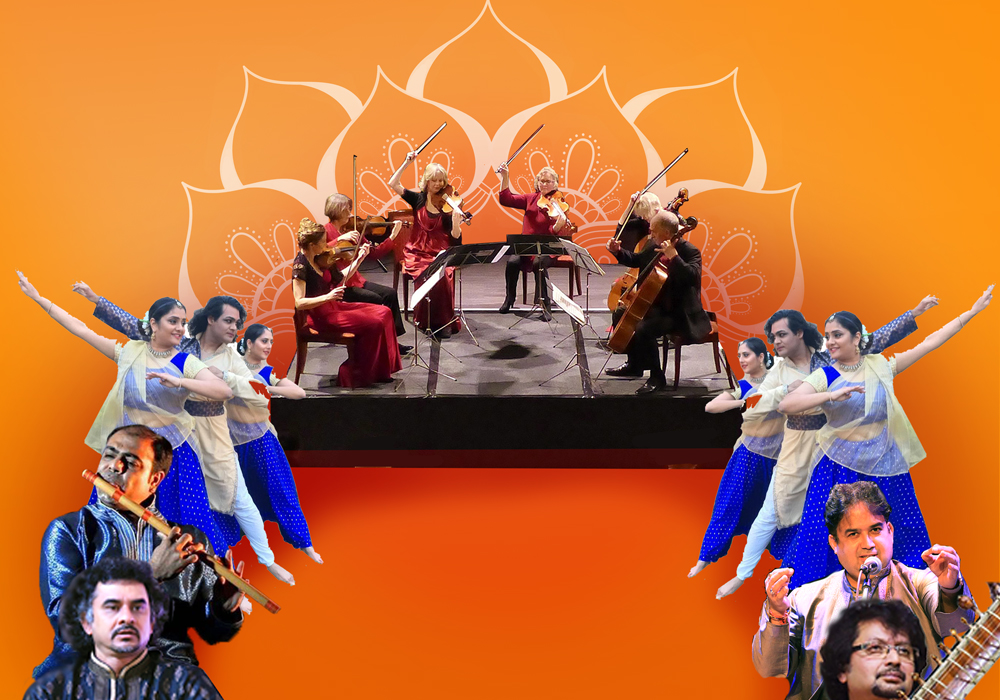 A ground breaking cross cultural musical project comes to town at Fairfield Halls on 25th April. 'Peace and Harmony' is a unique collaboration between a quartet from London Mozart Players, Indian musicians and dancers. It will show Indian classical music and dance in a whole new way and prove that music and dance can cross cultural boundaries, strengthen cultural relations based on the exchange of ideas, knowledge, work and artistic practice.
Under the artistic directorship of sitarist Sanjay Guha (disciple of Pandit Ravi Shankar), this 'confluence' will offer an opportunity to experience two different musical worlds in dialogue: the ancient but still continuous tradition of North Indian music and the reconstructed musical culture of the West. A fascinating canvas of interrelated art forms will conjoin to produce one of the most explorative and inspiring collaboration between varied string instruments. An alchemy will be at play where the sounds of cello and violin, will join with North Indian sitar, tabla and flute to create new music out of the sounds of the past and explore the different musical worlds. The collaboration will be a rare performance of musical cross culture, unison and duality where improvisations will be created exploring the partnership between the various string instruments and dancers.
The Indian music's framework of rhythmic cycles and melodic scales offer a highly evolved structure. The compositions selected for the concert will be guided by this basic principle and notated for the benefit of the LMP musicians. Fiona Brice, the London Mozart Players' Collaborative Composer in Association will arrange and orchestrate both the new compositions and music from the classical repertoire, bringing together musicians from both cultures in this exciting project. Compositions will be blended and arrangements with melodic acoustic phrasing will explore the familiar rhythms and tonalities of the various string instruments. Subtle nuances that bring about highly differentiated effects will become the meeting place where they will be able to compare notes and develop an organic approach to experimentation.
The traditional Indian section will start with Sanskrit chants by a vocalist, interwoven and blended with Indian instruments. The lyrical structure will gradually transform into melodic progressions and evolve into creative musical patterns. This sequence will be joined by dancers that depict the visual aspect through movements and traditional dance forms.
Sanjay Guha is a senior disciple of Ravi Shankar. He is a Fellow of Trinity School of Music and Head of the Sitar Department at the Indian Institute of Cultre, Bhavan Centre. He is also the Artistic Director of London Sitar Ensemble. An intelligent composer, performer and teacher, Sanjay will compose/conduct the repertoire of the concert with LMP musicians and write the music score for this project. He will be accompanied on the Tabla by Croydon based Tabla artist Saleel Tambe and Robin Christian on the flute. Dr Vijay Rajput is one of Britain's most talented Indian classical singers. A maestro of the 'khayal' style from the north Indian tradition and an artist of international repute.
Harsha Amin is the resident dance teacher/choreographer of Subrang Arts.