OUT TOMORROW – The world premiere recording of Parry's Judith
The first full London performance since the 19th century of Hubert Parry's stunning oratorio Judith took place in April 2019 at the Southbank Centre. After a critically acclaimed performance that revived this magnificent work, we undertook a recording with William Vann, Crouch End Festival Chorus and Chandos. We are delighted to be announcing the release of this neglected masterpiece, this will be the very first time it has ever appeared on disc.
Having been commissioned by the Birmingham Festival, Parry decided to combine the Old Testament stories of Manasseh and Judith. A good deal of the libretto was provided by Parry himself, who took other texts from the biblical books of Isaiah, Psalms, and Judith. Having originally conceived the work in four acts, Parry condensed it into two. Judith was premiered by Richter in Birmingham in August 1888, and it consolidated Parry's reputation as a choral composer, numerous performances following in Edinburgh and in London. Although popular in his lifetime, Judith fell into obscurity after Parry's death.
"…it's stirring stuff indeed, and the choral writing in places anticipates the grandeur of Elgar's Gerontius…" Presto Classical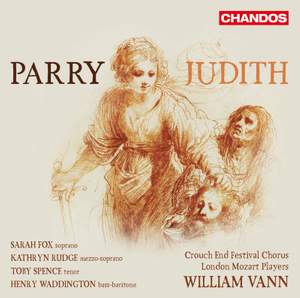 Featuring
Crouch End Festival Chorus
London Mozart Players
Sarah Fox soprano
Kathryn Rudge mezzo-soprano
Toby Spence tenor
Henry Waddington bass-baritone
William Whitehead organ
William Vann conductor
Pre order your copy via the link below:
Out Friday 28th March 2020