London Mozart Runners complete the MK Marathon, raising over £5.5k in sponsorship
Michael Posner with his well earned medal, after running the full distance.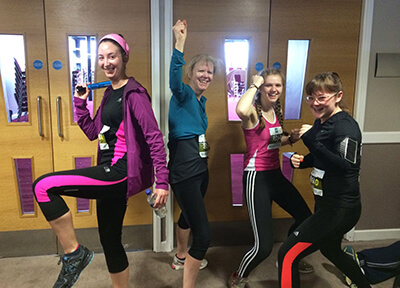 Team LMP 1 getting ready to start the race!
On 2nd May 2016, 9 members of the LMP took part in the Milton Keynes Marathon to raise money for the orchestra. With the help of many generous sponsors, our runners have raised a grand total of £5,627.00.
On behalf of the whole team and the orchestra, we would like to say a massive thank you to everybody for their incredibly generous donations. The money raised will help us to continue inspiring audiences with music and live performance.
Team LMP 1
Julia Desbruslais, Jenny Brady, Sara Gale & Sarah Posner
4:34:39
Team LMP 2
Paul Archibald, Sebastian Comberti, Clare Hoffnan & Anne Criscuolo
4:48:53
Full Marathon
Michael Posner
4:51:49
Watch our wonderful runners as they cross the finish line in the videos below!