The London Mozart Players resume ensemble performance (socially distanced) – first in three-concert online series reaches over 1 million people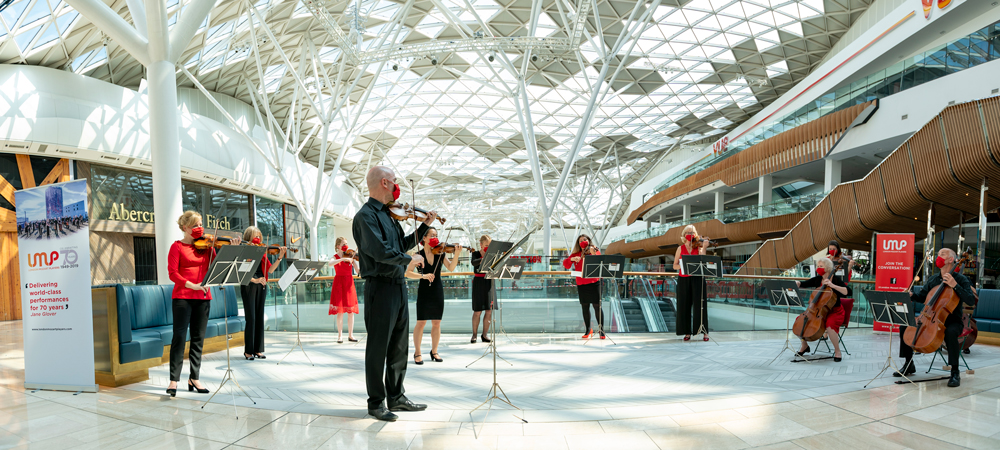 First LMP Live! concert is one of the largest Facebook Lives in Classic FM's history, reaching more than  1 million people – with ove r 3K peak live viewer s and  488K total video views  within 18 hours.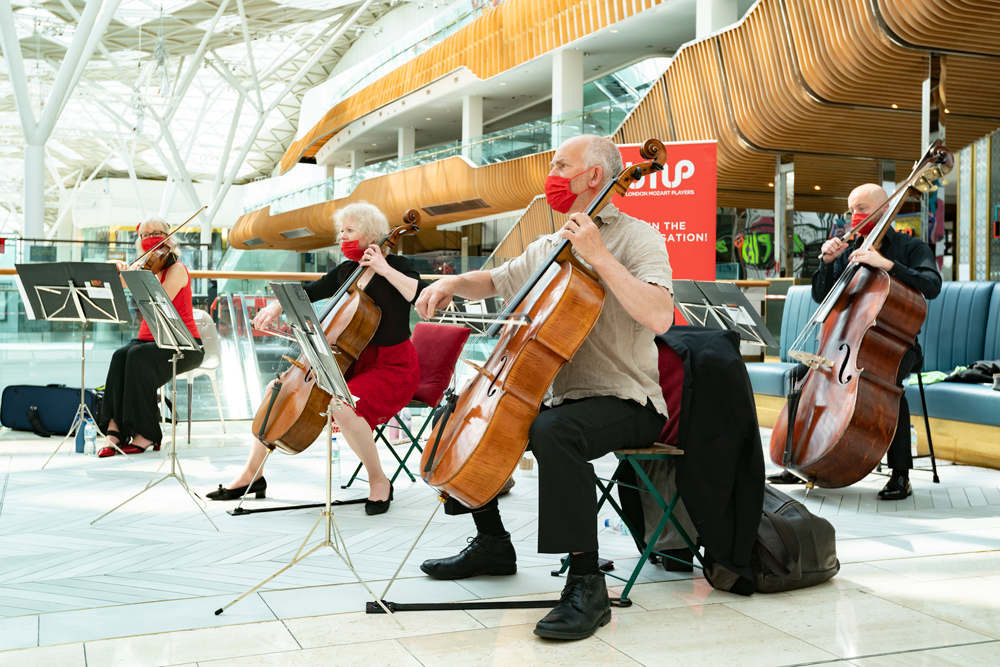 The London Mozart Players, the UK's longest established orchestra, has become one of the first UK classical ensembles to resume making music together in 'concert mode' after the easing of lockdown restrictions. To kick off their three-concert series 'LMP Live!', the orchestra performed a strings programme at Westfield London to mark the mall's first day of trading since the Covid-19 lockdown came into force. The event was filmed and performed under social distancing guidelines, with the event streamed in partnership with Classic FM – the UK's most popular classical music station – via their social media channels on Monday 15th June at 7pm. The concert will be available on the LMP's own social media channels from Tuesday 16th June at 7pm.
The LMP musicians had not performed together since Friday 13th March, and were delighted to be back together to make music, despite having to maintain a two-metre distance from each other, and wearing masks (made by LMP violist Judith Busbridge). Victoria Sayles, first violin with LMP, said: 'I am so excited, not just to see my friends and my colleagues, but to make music…amazing!'. Bryony Gibson-Cornish, LMP violist commented: 'Even though we are wearing masks we are going to be smiling behind them!'. The programme for the Westfield London concert included music by Mozart, Elgar and Tchaikovsky and future programmes include 'The Lark Ascending' with soloist Tasmin Little (Saturday 4 July at St Giles, Cripplegate) and Vivaldi's 'The Four Seasons' with soloist Jennifer Pike (Wednesday 22nd July at Mansfield College, Oxford).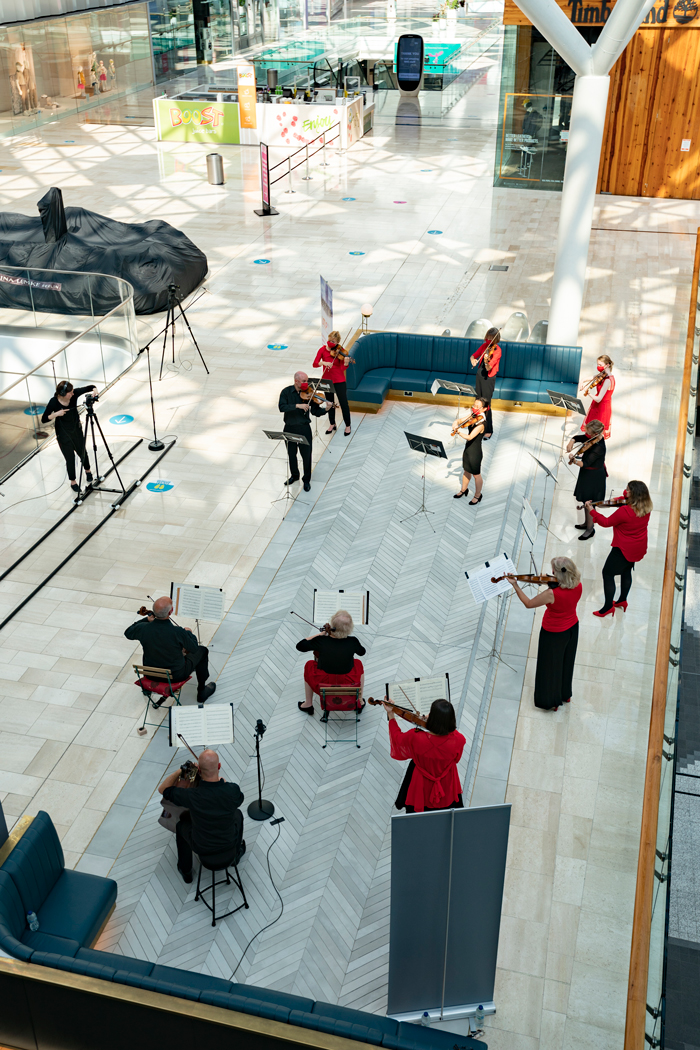 The one-hour live stream is one of the biggest in Classic FM's Facebook Live series, reaching more than a million classical music lovers with 488k total views within 18 hours. There were over 2k comments from listeners in countries around the world expressing their love for live classical music:
"So wonderful! Such a joy to see and hear an ensemble playing live."
"Thank you from the bottom of my heart for this gift . . .I am in tears, not only as a violinist moved by the music and your playing, but also to know in the moment what I have known my whole life – music heals."
"Great variety of music in program, social distancing worked! Thank you."
As mass gatherings are still not permitted, all three concerts will be filmed without an audience for streaming on social media, Premiered on Classic FM's platforms, and also available via LMP's channels 24 hours later.
LMP Executive Director Julia Desbruslais said: 'These concerts are like a ray of sunshine after a long winter, and represent LMP's determination to come out on the other side and find a way back to live audiences so we can share our love of music-making together as an orchestra.'
Jacinta Rowsell, General Manager of Westfield London said: 'The LMP concert was a brilliant celebration of bringing the musicians back together as we also mark the reopening of Westfield London. Streaming the concert to Classic FM listeners via a socially distanced performance in The Atrium could be a sign of things to come as entertainment and events become more creative to deliver experiences under new conditions. Huge well done to the team involved.'
UPDATE: watch all of LMP Live!
St Giles Cripplegate – re-opening of churches to congregations
Directed by Ruth Rogers
Programme:
Grieg Holberg Suite
Vaughan Williams The Lark Ascending (soloist Tasmin Little)
Copeland Hoedown
Mansfield College, Oxford – last official day of home-schooling
Directed by Simon Blendis
Programme:
Vivaldi The Four Seasons (soloist Jennifer Pike)