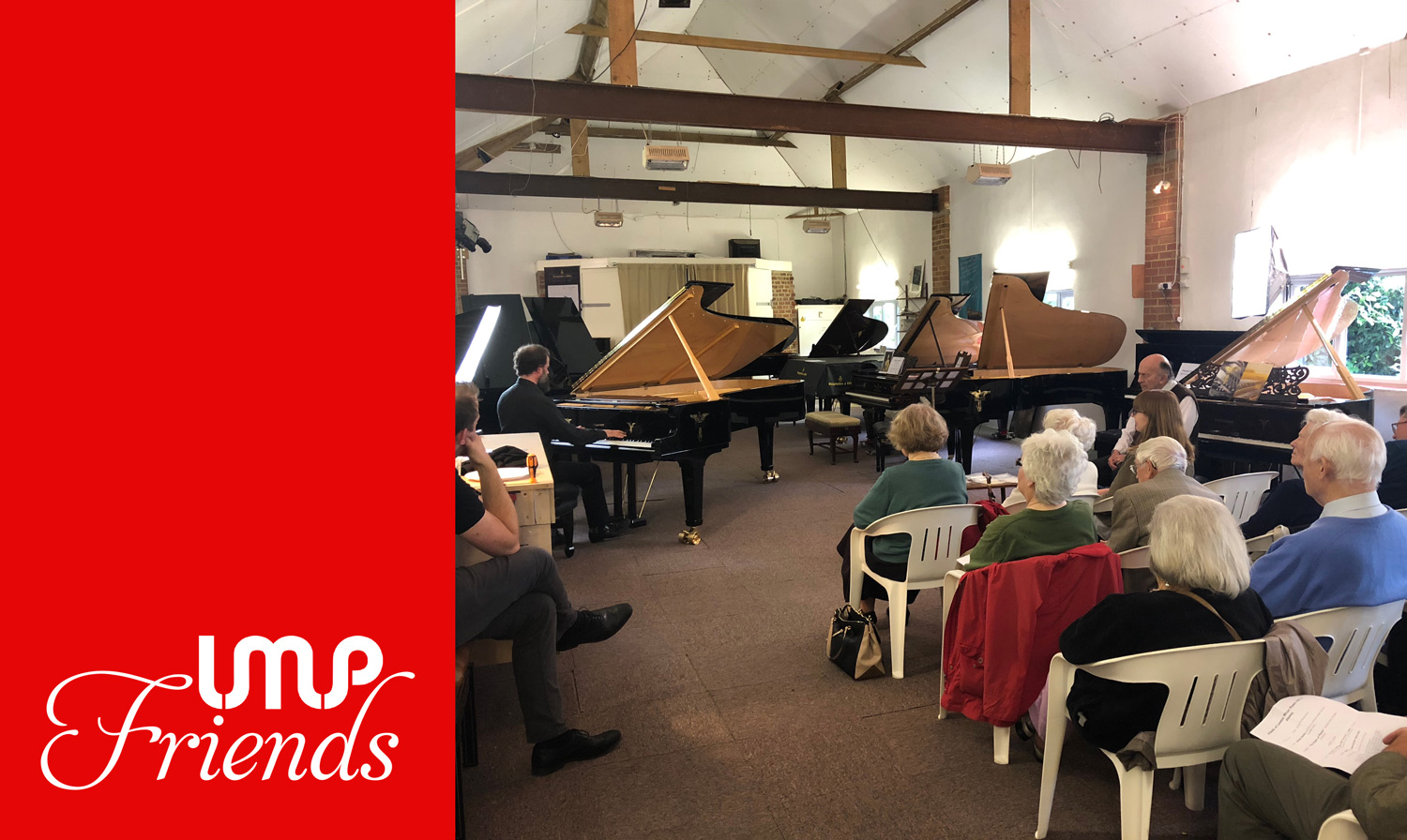 LMP Friends trip to Phoenix Pianos
On 13 June, around 35 LMP Friends went on a day trip to Hurstwood Farm, a hazelnut farm in rural Kent that is also the home of Phoenix Pianos. The special guest of the trip was pianist Howard Shelley, who had come to Hurstwood to try out the grand piano that is going to be installed at Fairfield Halls and which he will play in our Fairfield re-opening Gala Concert on Wednesday 18th September. Howard kindly played a movement from the Hummel Piano Concerto to show off the quality of the sound, as well as some Rachmaninov and a variety of other pieces, and the Friends were able to chat with our favourite pianist. 
The piano Howard tried out – Model 272 concert grand – is the first concert grand piano built in England for over 50 years. It will soon find a new home in Croydon's newly refurbished Fairfield Halls, where the main concert hall has been renamed Phoenix Concert Hall in honour of the partnership with Phoenix who are supplying the halls with all its pianos. In total, there will be no fewer than three grand pianos, one baby grand and six uprights. They will be used throughout the launch week by pupils joining the Phoenix Piano Academy, which is open to pianists of Grade 6 standard and above, and Phoenix has joined forces with BH Live (who run Fairfield) to launch the Phoenix Piano Academy at Fairfield Halls led by Fred Scott, Associated Artist for Music & Education. 
Another benefit of the trip to Hurstwood was that the Friends were invited to play the many pianos at the farm and also got the unique opportunity to see the world's first (!) complete carbon fibre piano. There was also a 30-minute recital by pianist Alexander Metcalfe, which included pieces by Schubert, Chopin and Liszt. The day was rounded up with scones, strawberry jam and cream so that that everyone went home satisfied. A good time was had by all and the Friends' enthusiasm was very visible in their feedback. 
'I would like to thank you very much for arranging such an enjoyable and interesting outing to  Phoenix  Pianos. It was something quite different and gave a great insight into the intricacies of piano construction which does not usually get a great mention. Also, the hosts there were so charming and gave a great welcome to their works and were clearly proud of their achievements.  The piano recital was an added bonus and most enjoyable.'