#ThursdayThoughts Blog – At Home with LMP
Writing & recording 'String Quartet No.1' by Fiona Brice, performed by Brother Tree Sound
We caught up with our Collaborative Composer in Association, Fiona Brice, one of the UK's most exciting and accomplished composers/arrangers/performers, who discusses her journey of writing and recording a new composition, 'String Quartet No.1'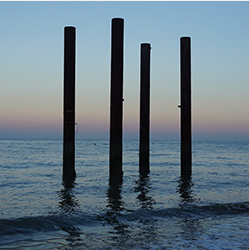 The classical string quartet repertoire contains incredible work by some of the best composers in history and the statistics are intimidating: Haydn wrote sixty-eight quartets, Mozart contributed twenty-three quartets, Beethoven left us sixteen quartets, Shostakovich completed fifteen, Bartok wrote a heavyweight six, the list goes on… Milhaud completed an impressive eighteen quartets, Villa-Lobos contributed seventeen, and the minimalists Michael Nyman (five quartets), Terry Riley (hard to count as he tends towards titles not numbers) and Philip Glass (eight quartets) have all contributed substantially to the genre's development. Studio recording gives us the opportunity to hear familiar repertoire interpreted in bold new ways, and has allowed composers to introduce new sonic elements, like the astoundingly poignant "Different Trains" by Steve Reich (1988), written for string quartet and pre-recorded performance tape. Over time the ensembles themselves have become the stars, known for their particular quality of sound eg. The Kronos Quartet, The Smith Quartet, the Balanescu Quartet. These ensembles now commission works from new composers, and record release dates have rapidly taken precedence over premieres. In summary, all of this history can be overwhelming when starting a new work, but writing is always a journey of discovery worth embarking on.
As an arranger, the string quartet is the ensemble I have most regularly been commissioned to write for, including a complete album of contemporary covers for string quartet and vocals ("The Separate: Orchestral Variations Vol.1" on Setanta Records) . I have also written over fifty arrangements of pop songs for string quartet because as a professional violinist I became bored to tears repeating the standard quartet repertoire at weddings and parties. These arrangements have proved very popular with my string playing colleagues (they don't get to perform "Like A Virgin" or "Billy Jean" very often) but the process of transcribing these songs from audio to the page has also given me great insight into how to solve some of the challenges of writing for four instruments: how to distribute melody and harmony across the playing range, how to maintain rhythmic pulse when there are no drums, how best to use the different voices of each instrument, and when to give them a rest.
The quartet is the perfect capsule ensemble. Incredibly versatile, capable of hushed intimacy and aggressive power in equal measure, it has huge range and depth of expression available to it. When working on my own compositions I regularly conceive ideas for quartet and develop them gradually, and I had been working on ideas for a three-movement work in 2017 when I was approached by a new ensemble called Brother Tree Sound, led & run by LMP violinist Anna de Bruin, to see if I had anything they could perform at their debut concert. There's nothing like the promise of a live performance to breathe life into draft ideas. I decided this was the incentive I needed to formalise these ideas into my first string quartet.
I write wherever I can take my laptop, so sections of the quartet came to life on trains, planes, in airports and studios, as well as at home. I had hoped to complete it before November 2017 because I was committed to a month of yoga teacher training in Thailand (the disciplines of music and yoga can be hugely complimentary – I'll save that for another blog) but I had been so busy with other commissions up until my departing flight that I did end up finishing the quartet on the beautiful island of Koh Samui, staring at the ocean, in between lectures on anatomy and Sanskrit.
"What's it about?" is the question most often asked about a new work (sometimes followed by the slightly loaded "how long is it?"). Although much of my music is inspired by travel, this quartet is more abstract, more about light, emotion and sensation, and the fun of writing, experimenting with textures and techniques. I described the quartet to Anna de Bruin as follows: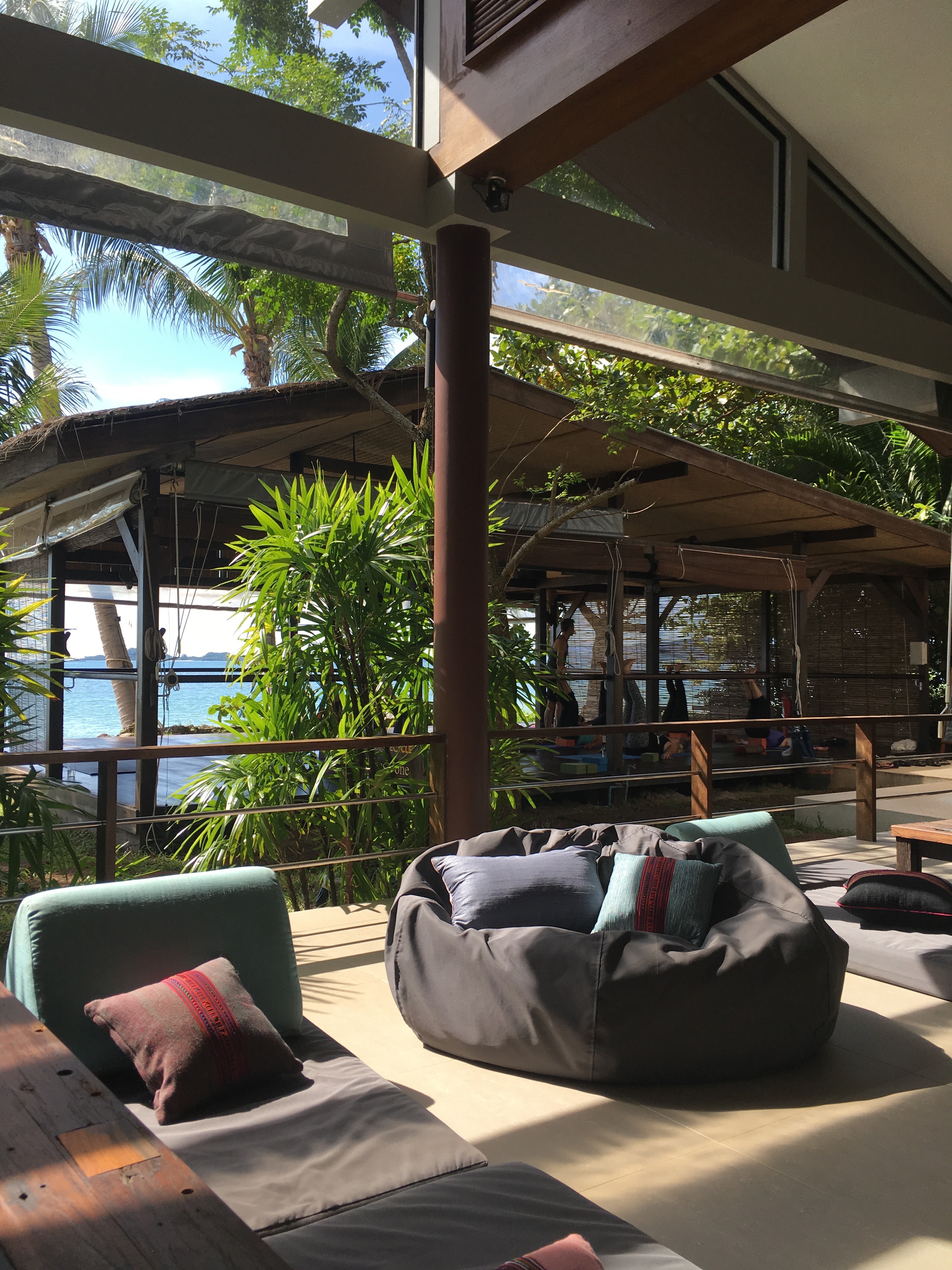 Beach cafe view, Samahita Retreat, Koh Samui. Yoga in progress.
Movement I – Violin 1 and Violin 2 are mostly paired and Viola and Cello are mostly paired with something different.. This movement should feel like something is blossoming, glimpses of sunlight through leaves, little bursts of bright colours.. It should have an optimistic energy.
Movement 2 – Wistful, but not too slow or it will get stodgy. There are darker harmonic passages & deliberate dissonances but not too heavy in tone, maintain a playful Shostakovich/Ravel vibe. Two contrasting themes and time signatures in dialogue here, perhaps male/female aspects trying to meet in the middle.
Movement 3 – Tranquil, static, beautiful, tender. A subtle 'variation on a theme', different voicings repeatedly arriving at same point. Try to get as many colours out of it as you can. Waves of sound rising and falling.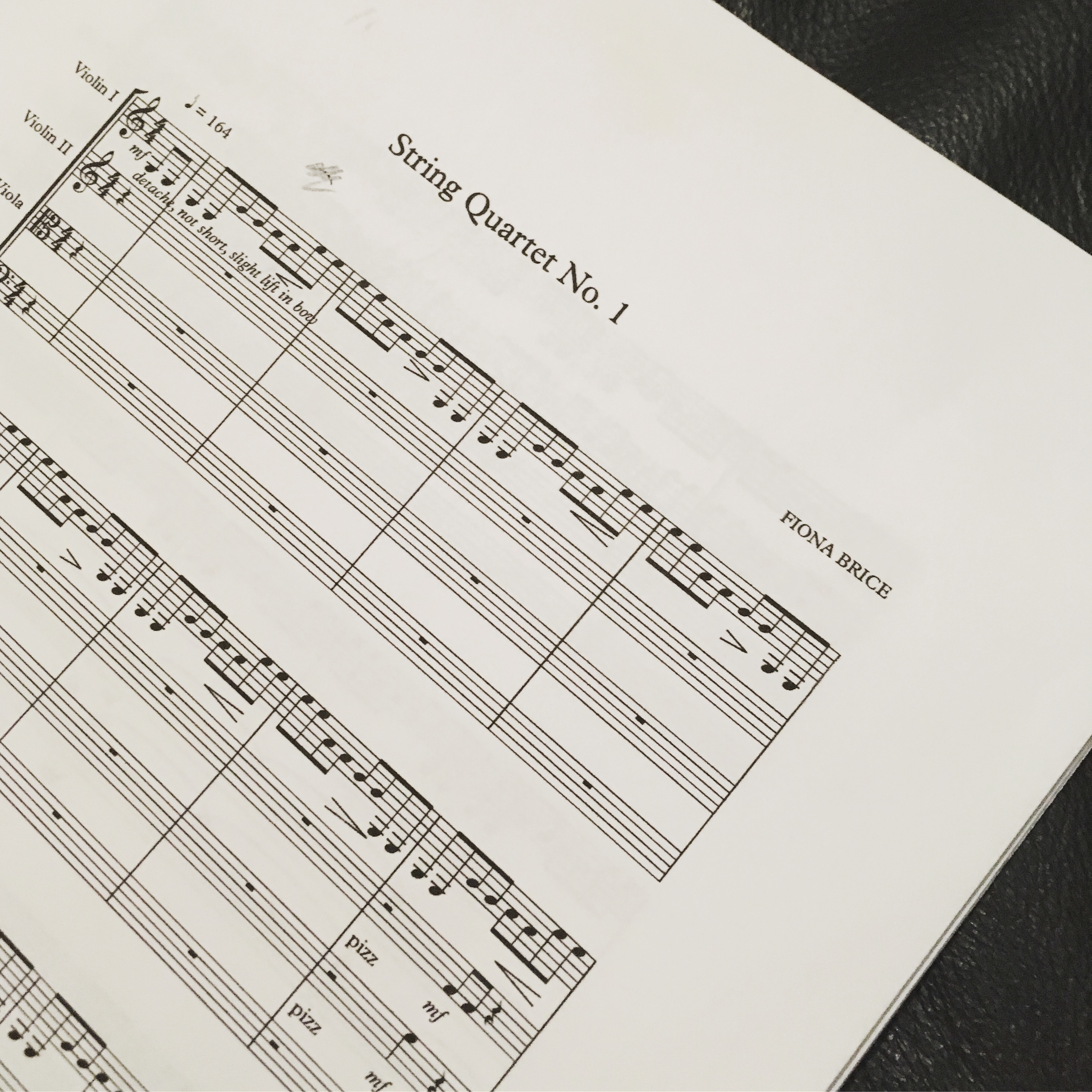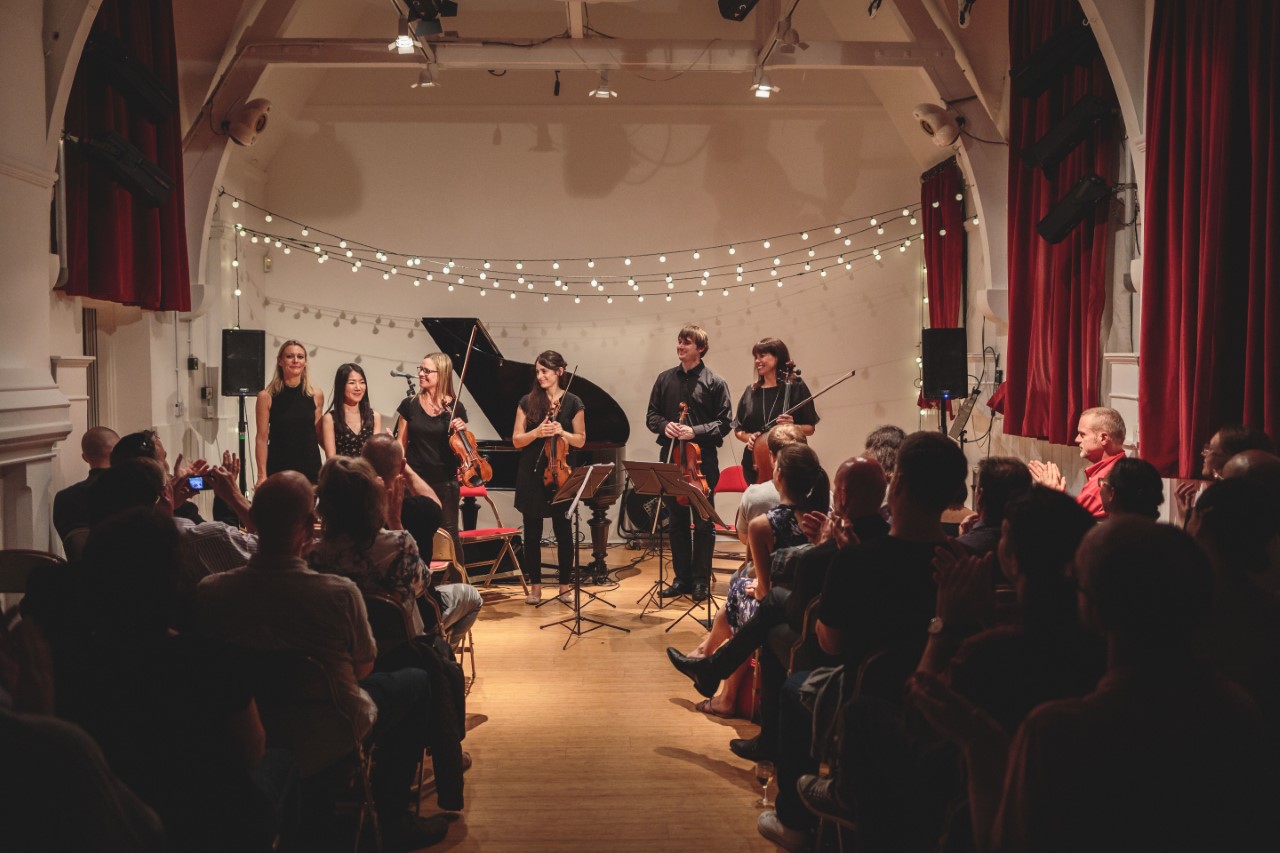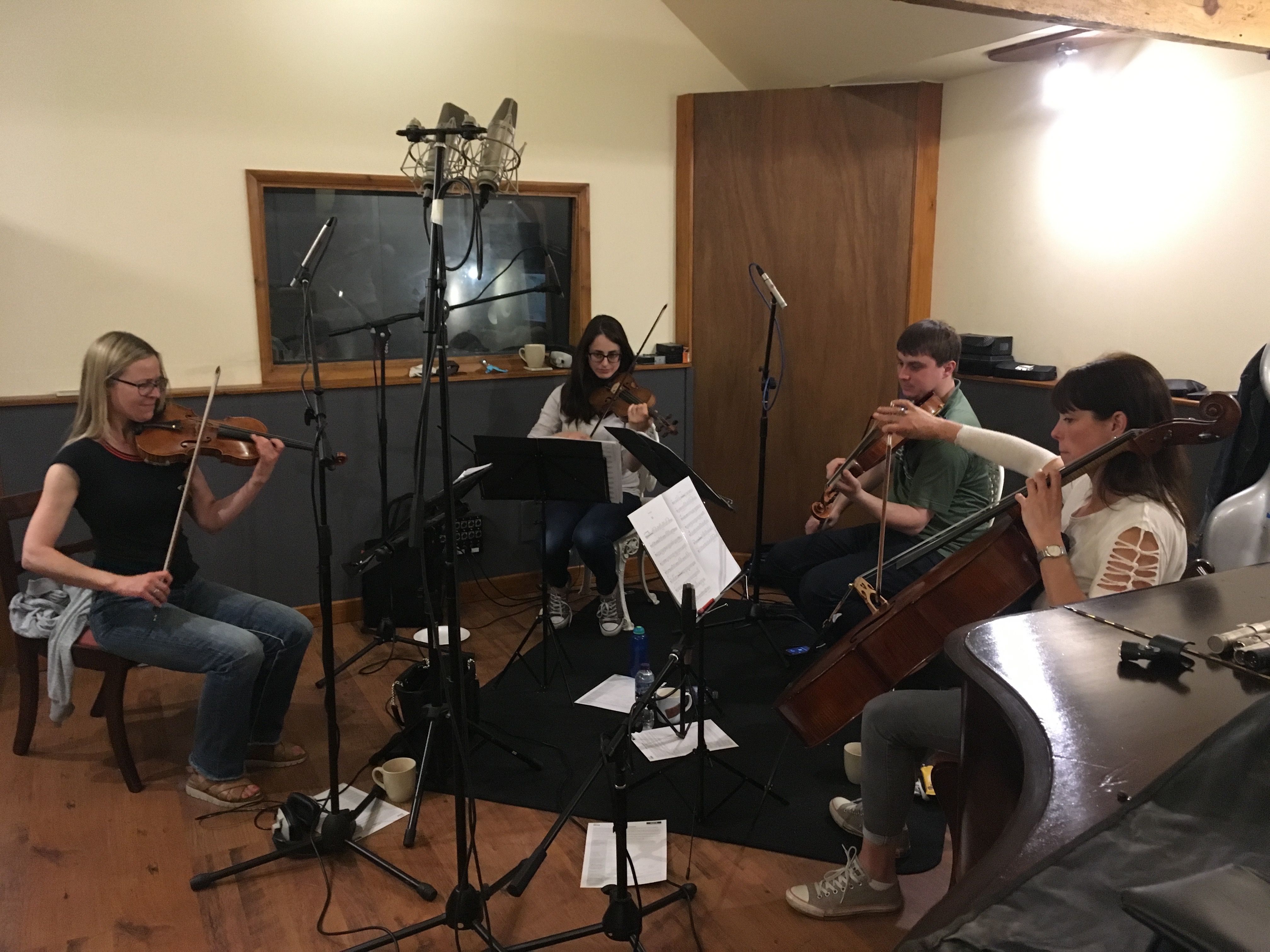 I have the players in mind when I am writing, always asking myself 'How would it feel to play this?' I want my music to be exciting and satisfying for the performers first and foremost, because I rely on their energy and passion to convey my music to the audience. I also value their interpretation: giving musicians the permission to interpret the notes on the page in their own way can often communicate something implicit in my music that I wasn't aware of. I couldn't attend rehearsals until the day of the performance so I emailed the parts, a midi recording, some notes, and left it in the capable hands of Brother Tree Sound.
"Quartet No.1" was premiered at St Ethelburga's Church, London on 3rd December 2017 as part of Brother Tree Sound's "Open Chamber" evening, played by Anna de Bruin (Violin 1), Thea Spiers (Violin 2), Peter Mallinson (Viola), Louise McMonagle (Cello). I had attended the rehearsal earlier in the day and felt relaxed and happy with the performance. Fortunately, music producer and composer Jim Perkins was in the audience, and he offered to record and release the work on his contemporary classical label, Bigo & Twigetti Records. This led to us recording the quartet on 4th June 2018 at Ashwood Music Studios in Norwich (with Julia Graham replacing Louise on cello for diary reasons).
The quartet performed the work a second time for the album launch at the October Gallery, London on 19th Sept 2018, and the work has subsequently been broadcast on BBC Radio 3. The third movement has proved the most popular so far online, clocking up 75,000 plays on Spotify. The modern habit of cherry-picking movements rather than listening to the whole journey through three movements is a bit like skipping straight to dessert without reading the rest of the menu to me, but the truth is I'm grateful that anyone is listening at all.
Finally, the album cover is photograph I took whilst living in Brighton. Four separate pillars of the old West Pier standing proudly in the water, which illustrates the quartet perfectly for me.
Keep your eyes open for a new video for "String Quartet No.1" by Anna DeBruin and Brother Tree Sound which will feature on At Home with LMP on Tuesday 19th May.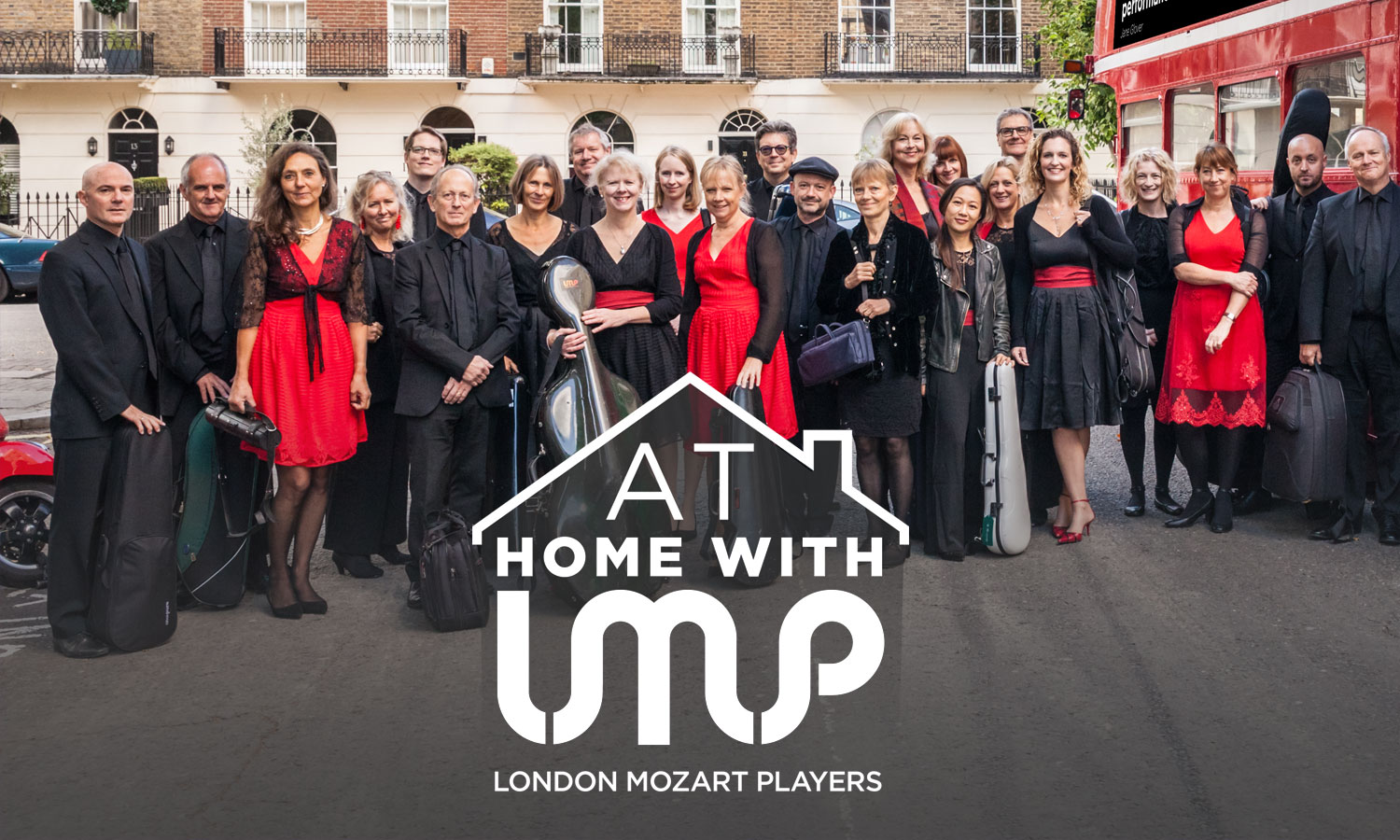 The London Mozart Players have a diverse schedule of digital content planned over the coming months which will deliver exciting and diverse musical experiences to the households of audiences across the world.
As a charity with no core funding, the coming months of concert cancellations due to the outbreak of Coronavirus will have a huge impact on the orchestra and other arts organisations across the country. Freelance musicians and artists will struggle with no income sources for the foreseeable future. The 'At home with LMP' initiative will work to combat some of the losses and help support its musicians through this difficult time.
If you are able to give a small donation, your money will go towards compensating our wonderful musicians for the loss of income they will inevitably face.