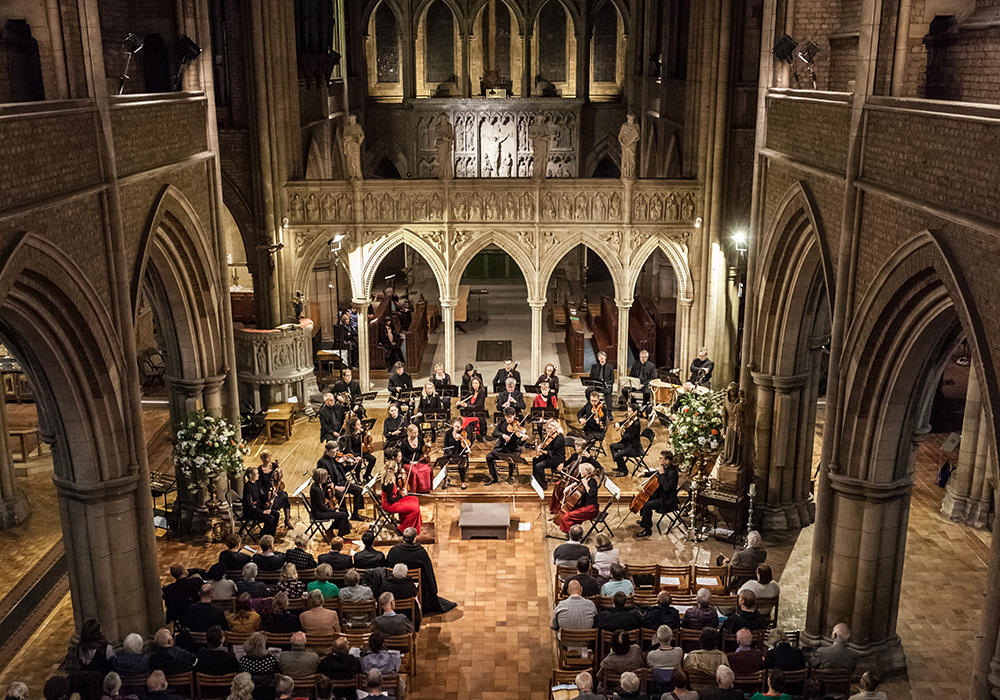 PRESS RELEASE: London Mozart Players launch their fourth concert season at St John the Evangelist, Upper Norwood
London Mozart Players return to St John the Evangelist for their fourth season of classical music concerts in SE19
Featuring international classical music stars include Howard Shelley and Raphael Wallfisch
Launch concert to feature a new commission by Matthew Olyver
November concert features the Amadeus Chamber Orchestra of Polish Radio
LMP's pioneering community outreach work at St John's inspires local musicians and school children

Following their triumphant return to Croydon's Fairfield Halls with a gala opening concert to mark their 70th birthday at the Phoenix Concert Hall on 18th September, the London Mozart Players will launch their new season of classical music concerts at the church of St John the Evangelist in Upper Norwood on Saturday 12 October at 7pm.  
The London Mozart Players' fourth season of concerts in SE19 brings the best in classical music to South London. As in previous years when stars of the calibre of Sheku Kanneh-Mason and Nicola Benedetti performed at St John's, a whole host of international stars from the classical music world will make their way to Upper Norwood to perform alongside this acclaimed orchestra. Season highlights include an impressive launch concert featuring 14-year-old Hungarian pianist Soma Balázs-Piri and Howard Shelley plus a premiere from Matthew Olyver, our annual sell-out Christmas concert extravanganza, 'Cellofest' with world-renowned cellist Raphael Wallfisch, and a production of Britten's Biblical epic Noye's Fludde. There's truly something for everyone this season! 
The November concert sees two orchestras share the stage when the Amadeus Chamber Orchestra of Polish Radio joins the LMP at St John's to perform music by Mozart and Mussorgsky as well as Polish composer Wojciech Kilar and LMP Associate Composer Roxanna Panufnik, proving that music has no borders. The concert will also include an exhibition of paintings by pupils of Rockmount School created especially for the concert and inspired by Mussorgsky's 'Pictures at an Exhibition'. 
But it's not just world-class performers who are on stage. The London Mozart Players' St John's series involves the music-makers from within the community as part of its pioneering outreach and education remit. Alongside the orchestra, young musicians from Cypress and Rockmount schools will get the chance to perform as well as The Crisis Skylight Croydon Singers, who add their voices at the Christmas concert and the Welcome Choir, which sings in two concerts this season. The final concert in June, a community production of Britten's 'Noye's Fludde' will see a whole array of musical groups perform alongside the LMP. There is also a concert featuring Howard Shelley performing Chopin that is specifically for local charities (with a limited number of tickets also available to purchase), so that those less fortunate or who do not normally go to concerts, get the chance to hear and experience the transformative power of classical music. 
The LMP's concert series at St John's is a true celebration of music and musicians at the heart of the SE19 community. The LMP plays a vital role in cultural engagement and participation within the borough of Croydon, and is delighted to be returning to the beautiful church of St John's for another season of collaboration and performance. Julia Desbruslais, Executive Director of LMP commented: 'We are firmly embedded in the community at Upper Norwood and we simply love performing in St John's. We can see how classical music has inspired many of the young people here and we know that bringing world-class music out of the concert hall and into the community has really made a difference. We hope that as many people as possible are able to come to these concerts and leave their daily lives behind for just a couple of hours of musical bliss.' 

The First Concert in the New Season:
Old Masters, Young Talent
Saturday 12 October, 7pm
St John the Evangelist, SE19 2RX
Prokofiev Symphony No.1 in D Op.25 'Classical'
Mozart Piano Concerto in D minor, K.466
Matthew Olyver Concerto in Clockwork
Haydn Symphony No.104 in D 'London'
Tickets £5-£35
Earlybird 15% discount available until 4th October.