LMP's recording of Jonathan Dove's cantata 'For An Unknown Soldier' released the week before Remembrance Sunday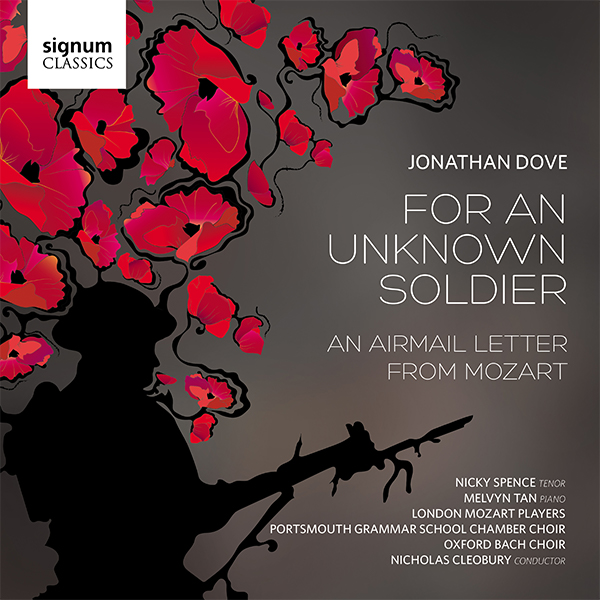 On 4th November the first recording of Jonathan Dove's 'For An Unknown Soldier' will be released to the general public, the week before Remembrance Sunday.
'For An Unknown Soldier' is a cantata of remembrance to mark the centenary of the First World War. Commissioned by the London Mozart Players and Portsmouth Grammar School in 2014, Jonathan Dove's poignant work combines the words of war poets such as Wilfred Owen, William Noel Hodgson & Isaac Rosenberg. Opening with Wilfred Owen's portentous '1914', the piece offers a moving meditation on the tragedy of war, following the personal journey of an Unknown Soldier as he leaves his family and home to travel to France.
Jonathan Dove commented on the cantata:
'[For an Unknown Soldier] gave me the opportunity to explore, in depth, a dark and difficult subject. […] The words of this cantata are the first hand experiences of the First World War written by poets, several of whom were killed during the war, their thoughts and feelings live again now through the voices of the young people of today'.
The sell-out World Premiere of the cantata took place in November 2014, and lay at the heart of a multi-faceted project that encompassed primary and secondary schools, nursing homes and the local communities of Portsmouth and Croydon. With the help of funds pledged by the general public from a KickStarter campaign and support from Relief in Need, a grant-giving organization based in Croydon, the LMP raised the money to record the cantata. Many of those involved in the premiere also feature in the recording, including: tenor Nicky Spence, conductor Nicholas Cleobury, The Portsmouth Grammar School Chamber Choir, Oxford Bach Choir and children from four Croydon primary school choirs.
The recording is paired with the ensemble's performance of Dove's 'An Airmail Letter from Mozart', for two horns, string quartet and piano, directed by Melvyn Tan. Dove uses the 'Theme and Variations', and one or two other ideas, from Mozart's Divertimento K287 to write an imaginary letter to his wife Constanze.
The LMP also have plans to tour the 'For An Unknown Soldier' project in 2018 to mark the end of the centenary of the First World War.
Pre-order a copy of For An Unknown Soldier
Please email info@lmp.org to pre-order your copy of 'For An Unknown Soldier' and we will arrange payment. Please note the CD is scheduled for release on 4th November, and we will post it to you as soon as it is available.
Postage and packaging is £2.99, or alternatively pick up a copy at one of our concerts.