Live Concert: Community Concert with Leia Zhu
Events Calendar
{{EventDate}}
& {{EventTime}}
Sunday 25 April, 4:30 pm & 7:00 pm
Live Concert: Community Concert with Leia Zhu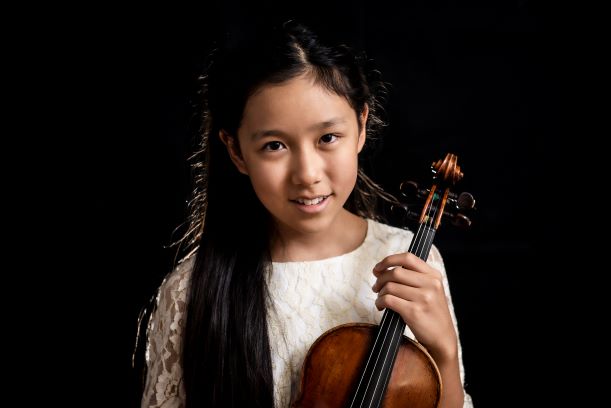 Programme
Haydn Symphony No. 44 'Trauer' in E minor, Hob.I:44
Mozart Violin Concerto No. 3
London Mozart Players
Leia Zhu violin
Simon Blendis leader
Our annual community concert features a remarkable rising star who been thrilling audiences around the world with her dazzling musical accomplishments since the age of four. Violinist Leia Zhu is still only 14 years old, but she is destined for a stellar career, and our concert will be an incredible opportunity to hear her perform. We are, of course, thrilled that Leia will perform music by another teenager: Mozart's Third Violin Concerto, written when the maestro was just 19, is lightly scored but full of gracefully ornate solo writing, with beautiful melodies in every movement. This is the perfect showcase for Leia and a wonderful treat for the audience at St John's.
Haydn's moving 'Sturm und Drang' style Symphony No. 44 'Trauer' opens the concert. It's especially expressive and dramatic, and one of the finest examples of a symphony in a minor key. The nickname 'Trauer' (Mourning) applies to the sublime adagio (not because it is sad, but because Haydn loved it so much he asked for it to be played at his funeral) which contrasts with the work's intense and powerful outer movements. An absolute masterpiece!
LMP's Community Concerts at St John's bring the best in classical music to people who – for a variety of reasons – would not normally attend a classical concert.  Free tickets are allocated to those who either due to cost or accessibility reasons, are not able to attend concerts in the usual London venues. We also give tickets to young music students, or schools, or charities, with tickets allocated via local community and charitable organisations. Premium tickets at £25 each will be more limited this year due to Covid restrictions, but we are determined to ensure that classical music is accessible for all, and will be having two concerts to ensure that as many people as possible are able to enjoy the talents of our young star.
This concert will be filmed for later release on the LMP website.
Tickets (£25) on sale soon
Tickets
| | | | |
| --- | --- | --- | --- |
| Sun 25 April | 4:30pm | £25 | |
| Sun 25 April | 7pm | £25 | |