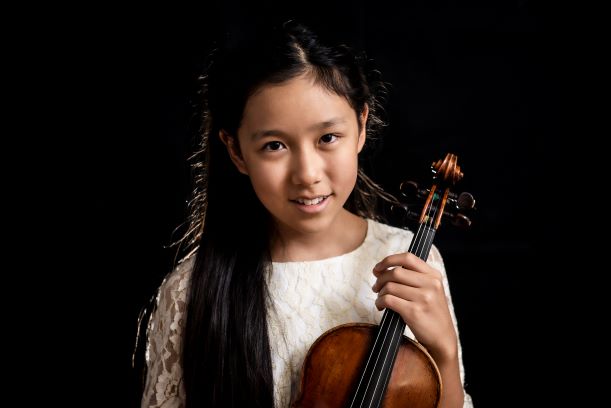 Fourteen-year-old British violinist Leia Zhu has performed at prestigious festivals and venues in more than 15 countries around the world. As 'The Violin Girl', she regularly posts YouTube videos which share her joy of music and creativity, which have attracted thousands of subscribers and views.
Her musical maturity and expressive interpretation were recognised early on, and since her debut, aged four, at the North East Last Night of the Proms in Newcastle City Hall, she has performed with some of the world's finest orchestras, including the National Orchestra of Belgium, Moscow Philharmonic Orchestra, Festival Strings Lucerne, Zurich Chamber Orchestra, English Chamber Orchestra, Mariinsky Symphony Orchestra and Russian National Orchestra.
Zhu's UK concerto debut came in February 2020 with the English Chamber Orchestra, with whom she perfomed Mendelssohn's Violin Concerto and Dvořák's Romance under conductor Joseph Wolfe. In the 2018/19 season, she played Wieniawski's Concerto No.1 with the Mariinsky Symphony Orchestra at the White Nights Festival in St Petersburg, and debuted at the renowned Rheingau Musik Festival. In 2018 she was invited to perform Waxman's Carmen Fantasie with Novosibirsk Symphony Orchestra at Vadim Repin's Trans-Siberian Art Festival, which was broadcast on BBC Radio 3, and played Mozart's Adagio for violin and orchestra and Paganini's La Campanella with Festival Strings Lucerne at the Lucerne Festival in KKL. In 2017, Zhu performed Paganini's Concerto No.1 with the State Capella Symphony Orchestra of St Petersburg at Musical Olympus Festival.
Other festival appearances have included Interlaken 125 Years, Interlaken Classics, Green Noise, Moscow Meets Friends, L'Arte del Arco, and Passau European Week. Her performance of Tchaikovsky's Souvenir d'un lieu cher Op. 42 and Dance of the Goblins by Antonio Bazzini with Festival Strings Lucerne at 2017 MozartFest Würzburg was broadcast by BR/Deutschlandradio.
In 2019, she embarked on a two-week, six-city tour of Israel with the Tel Aviv Soloists Ensemble, and she has previously toured Switzerland and Germany with Festival Strings Lucerne, performed across the north of England as soloist with the English Philharmonic Ensemble, and toured Spain with the Los Angeles-based Classical Concert Chamber Orchestra.
Her musical journey has taken her to major concert halls across Europe, including Royal Festival Hall, Cadogan Hall, Barbican Centre and Milton Court in London, BOZAR in Brussels, Mozarteum Grosser Saal in Salzburg, KKL in Lucerne, Berlin Philharmonie, Moscow's Tchaikovsky Concert Hall and the Mariinsky Theatre in St Petersburg.
Special collaborations have included playing the 5th movement of Lalo's Symphonie espagnole, conducted by Maxim Vengerov with the National Orchestra of Belgium at BOZAR in 2016, performing Sarasate's Navarra for two violins with Noah Bendix-Balgley (concertmaster of the Berlin Philharmonic Orchestra) at the Berliner Philharmonie in 2017, and sharing the stage with Roby Lakatos in Monti's Czardas, accompanied by the Russian State Symphony Orchestra, broadcast live to an audience of millions in 2018.
In producing her own regular videos, Zhu is a confident communicator and passionate advocate for classical music. She has been featured by international media including Classic FM, BBC News, ITV, Sky News, The Strad magazine, Violin Channel and Violinist.com, as well as news channels in Bulgaria, Italy, Spain, Switzerland, Russia, Germany, Israel, Greece, the US and Austria, and newspapers and online media around the world.
2020/21 season highlights include performing at the Tonhalle Zurich, multiple engagements with the London Mozart Players, concerts with the Lucerne Symphony Orchestra at KKL Luzern and a three-city tour of South Africa.
More info: https://www.harrisonparrott.com/artists/leia-zhu